http://www.theguardian.com/travel/2015/oct/21/agricultural-museum-cairo-egypt
Where does the British Museum's keeper of Ancient Egypt get his kicks when in Cairo?
No, not the Pyramids, the Sphinx or in a mummy's tombs – he prefers to hang out at the city's Agricultural Museum.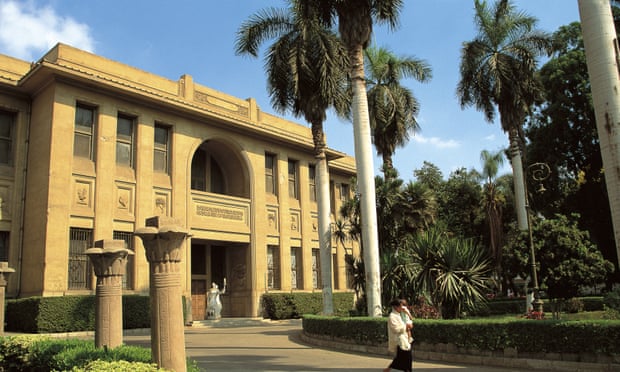 A museological gem … Cairo's Agricultural Museum. Photograph: Alamy
A
lthough I'm a museum curator and archaeologist working in Egypt, it's a museum without ancient monuments that fascinates me most. Off a busy street in the Dokki district of Cairo, within an almost unmarked garden compound, lie several buildings that make up the Agricultural Museum. Installed in the palace of Princess Fatima, the institution, which opened in 1938, was the first agricultural museum in the world.
It covers the history of agriculture from prehistoric to modern times, and the section which deals with the post-pharaonic period is astounding. Beneath a soaring central atrium sits an array of dioramas that you can walk around. An Egyptian cafe scene, a glassmaker's workshop, a village shop, a procession on camel-back, all replete with objects evoking traditional, often rural, life. The static poses, expressive faces and dustiness make such displays a fascinating, ghoulish spectacle.
But the real treasures lie upstairs. Not the antique wooden showcases with stuffed birds carefully lined up in rows, trussed as if awaiting the charcoal grill. Nor the Sudanese python skin framed on the wall, or the room marked simply "Soil".
A corridor leading through rooms in the natural history building. Photograph: ArabianEye/Corbis
Rather, delve into the rooms on disease, food and agricultural production. Models, farming paraphernalia, jars with diseased limbs or replica cuts of meat, information panels on lentil production …
The hand-painted wooden panels – one personal favourite shows "pests" from around the world (none from Egypt!) – and accompanying scenes are both effective and outmoded. This museological gem reflects the modernisation of Egyptian society and food production in the mid-20th century.
Egypt's new museums – particularly the Grand Egyptian Museum currently being built by the Giza pyramids on the outskirts of Cairo and scheduled to be partially open in 2018 – will be shiny, dazzling, massive monuments with state-of-the art displays. Let us hope there remains space for places like the Agricultural Museum, evocative slices of Egyptian – and museological – history.
•

Further information on the museum at touregypt.net. Neal Spencer is keeper of Ancient Egypt & Sudan at the British Museum in London, where the Egypt: Faith After the Pharaohs exhibition starts on October 29 (book tickets at britishmuseum.org)