https://www.egyptindependent.com/zahi-hawass-refutes-former-grand-mufti-ali-gomaas-prophet-idris-theory/
Zahi Hawass refutes former Grand Mufti Ali Gomaa's Prophet Idris theory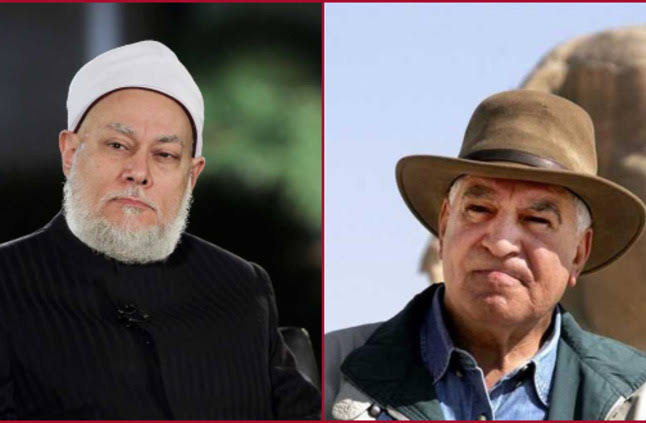 Egyptologist and former Antiquities Minister Zahi Hawass criticized
a statement by Egypt's former Grand Mufti Ali Gomaa claiming that Prophet Idris taught the ancient Egyptians how to build the pyramids and that the sphinx was made to honor him.
In an interview with TV host Amr Adeeb on MBC Masr, Hawass said: "Sheikh Ali Gomaa is a great man and I love him dearly. But it's not appropriate for him to say that."
He also denied any link between Osiris and Prophet Idris, saying "Of course, there is no link. The revered Mufti speaks without evidence, while I used linguistic and archaeological evidence. Forgive my fierce response to the revered Mufti despite my great respect for him."
Responding to the former Mufti's claim that Idris also invented mummification, Hawass explained that it was not discovered by ancient Egyptians at once, but rather developed gradually – the First Dynasty originally mummified the lower part of the body, and by the 18th Dynasty the full body was mummified.
He concluded: "The Mufti speaks without evidence, and I respect him very much…But he needs to stick to expressing his opinions on religion, not archaeology".
Gomaa said in a statement that Prophet Idris may have been the one who taught the ancient Egyptians how to build the pyramids, saying "There are presumptions that support this perception, including the fact that the construction of the Sphinx preceded the building of the pyramids."

And on the CBC channel's program "Egypt, the Land of the Prophets" Gomaa claimed that the sphinx was likely made to honor Prophet Idris, citing the fact that the sphinx was designed with a human face as opposed to typical animal features.
Hawass was listed by National Geographic as an Explorer in Residence, and was also included among the world's Top 100 Most Influential People for the year 2005 by TIME Magazine.
In 2008, he was granted the position of Goodwill Ambassador to Japan by the Egyptian and Japanese Ministries of Foreign Affairs, according to his official website.
Edited translation from Al-Masry Al-Youm
--   Sent from my Linux system.