https://www.independent.co.uk/news/science/archaeology/roman-empire-cleopatra-octavian-ceasar-egypt-battle-sea-nicopolis-history-archaeology-a8843886.html
World exclusive: Remarkable research into the first Roman Emperor's victory monument in the ancient city of Nicopolis uncovers his history-changing advantage
Archaeologists and historians are shedding extraordinary new light on one of the most important events in human history – the horrific battle which gave birth to the Roman Empire.
A detailed study of a unique victory monument, overlooking the sea in northwest Greece, is revealing some of the long-lost secrets of that crucial military engagement – a great sea battle, fought between Julius Caesar's adoptive son and heir, Octavian (who became Rome's first emperor) and Egypt's Queen Cleopatra (and her Roman lover, Mark Antony).
The remains of the victory monument still survive adjacent to Nicopolis – the largest ancient ruined city in Greece.
Octavian (who received the title Augustus when he became Rome's first emperor) won that crucial naval clash of arms in 31BC – and, now, more than 2,000 years later, detailed analysis of his great victory monument, overlooking the battle site near the ancient Greek religious sanctuary of Actium, is helping scholars to more fully understand how his world-changing victory was achieved.
It's always been thought that many of Cleopatra and Mark Antony's ships were bigger than Octavian's – and were therefore less manoeuvrable.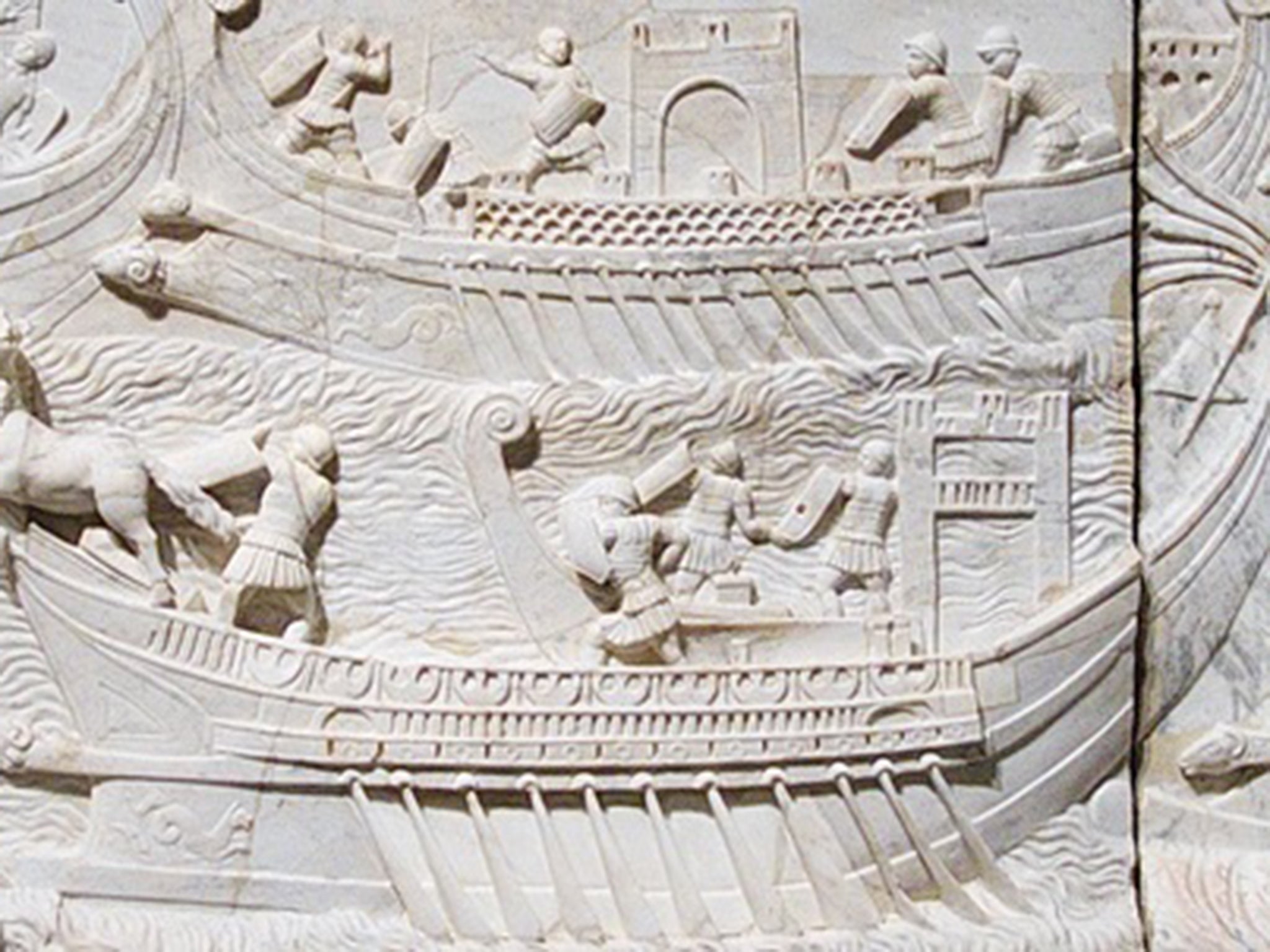 But now crucial archaeological data obtained from the victory monument excavations over recent years has provided the first archaeological confirmation that some of Cleopatra and Mark Antony's ships were indeed unusually large. This would have given Octavian – who had smaller, faster vessels – a history-changing advantage. The evidence is also allowing archaeologists to begin to work out the military rationale behind Octavian's battle tactics.
The crucial data is from a series of around 35 niches set into the front of Octavian's great victory monument. It's known, in part from a first century AD Roman poem, that the niches were made to hold the great bronze marine battering rams from some of Mark Antony and Cleopatra's most important warships.
Octavian captured 350 of their vessels – and chose the rams of just 35 of them as war trophies for permanent display in his monument to his enemies' defeat.
The analysis of the niches (some of which were only excavated in the past two years) has revealed that they are all of different dimensions and had therefore been made to hold specific enemy rams of different shapes and sizes.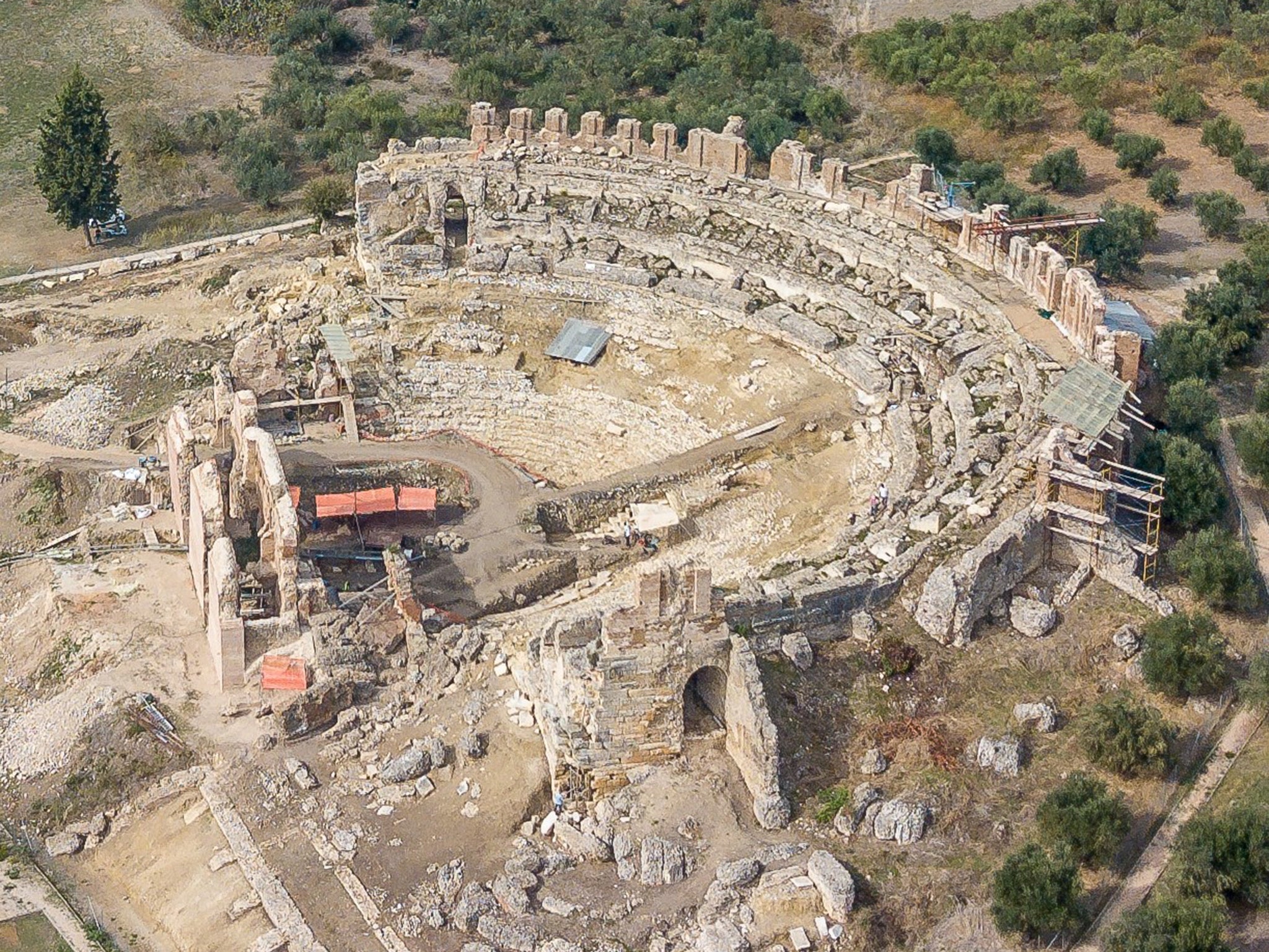 What's more, the detailed design of some of the niches reveals the vertical dimensions and shapes of the sides of each ram – and from those details, archaeologists have been able to begin to deduce that the crucial curved horizontal so-called "wale" timbers holding each vessel together (and absorbing the shock of administering ram impacts) were unusually massive. Indeed it is conceivable that some of Antony and Cleopatra's warships were up to 40 metres long.
It is anticipated that future further analysis of the niche dimensions will reveal additional details about those horizontal timbers and thus also about the amount of force involved in ramming an enemy ship. In turn this will help further advance scholars' understanding of the sheer scale of the military power and capability of the vessels involved.
Up till now, historians and archaeologists have had no real way of beginning to estimate the ramming "firepower" of the vessels involved in the crucial conflict which gave birth to the Roman Empire. The research is likely to enhance historians' appreciation of why Octavian's tactics in this sea battle were designed to prevent Antony and Cleopatra from effectively using their warships' huge ramming capability.
The huge sea battle at Actium, which the victory monument was built to commemorate, was, in more recent times, portrayed most famously in the spectacular epic 1960s film, Cleopatra, starring Elizabeth Taylor as Cleopatra, Richard Burton as Mark Antony and Roddy McDowall as Octavian.
However, the monument wasn't the only thing that Octavian built to celebrate his historic victory and to commemorate the official creation of Rome's great empire. For, adjacent to it, he constructed a full-scale city (Nicopolis, Greek for "City of Victory"), which grew to have a population of more than 20,000 (mostly Greeks encouraged to move there from a substantial number of pre-existing local towns).
Its spectacular ancient city gates and walls (three miles of which are still visible), its theatres, baths and stadium and its Roman villas, churches and impressive aqueduct system still survive to this day, and can be visited by tourists. It is the largest ancient ruined city in Greece – located four miles north of the small town of Preveza in the Greek region of Epirus.
The long-abandoned city's huge theatre is currently being conserved.
Although the victory monument and many of the city's impressive buildings have survived through the centuries, all 35 spectacular bronze rams have long since vanished (apart from a few fragments found by archaeologists). Only their empty niches remain – testimony to the fate of Antony and Cleopatra and to the birth of one of the greatest empires and political systems the world has ever seen.
As to what ultimately became of the bronze rams themselves, it's likely that they were melted down by local people or militias or by invading Barbarians at some stage in the 4th or 5th centuries AD, the very period that saw the weakening and collapse of much of the Roman Empire. In that sense, the site represents not only the birth of that great empire, but also the beginning of its demise.
---
We'll tell you what's true. You can form your own view.
At The Independent, no one tells us what to write. That's why, in an era of political lies and Brexit bias, more readers are turning to an independent source. Subscribe from just 15p a day for extra exclusives, events and ebooks – all with no ads.
--   Sent from my Linux system.