https://ww.egyptindependent.com/grand-egyptian-museum-banner-to-be-raised-at-berlin-stock-exchange-tourism-minister/
Grand Egyptian Museum banner to be raised at Berlin Stock Exchange: Tourism Minister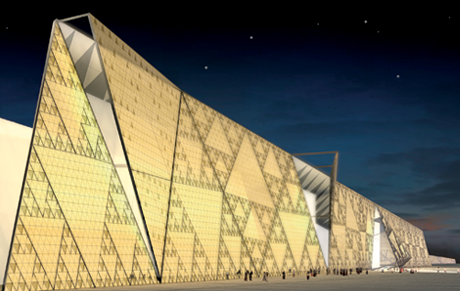 Tourism Minister Rania al-Mashat announced on Tuesday that the Egyptian pavilion at the Berlin Stock Exchange will raise the banner of the Grand Egyptian Museum. She also revealed that 360-degree photos for the museum would be displayed at the event.
She added that the Egyptian pavilion participating in the stock exchange this year will be backed by new technological and promotional methods.
For the first time, the Egyptian pavilion will shed light on the various Egyptian tourist cities via the allotment of presentation sections with screens displaying promotional materials for each tourist city. These displays reflect one of the main elements of the promotion initiative and structural reform program launched by the ministry in November 2018, according to Mashat.
She mentioned that the Ministry of Tourism will promote the inauguration of the Grand Egyptian Museum on tickets to the Berlin Stock Exchange and will put giant banners for the museum on the streets of the German capital to attract widespread attention to the opening of largest museum in the world, scheduled for 2020.
As part of the promotion of the Grand Egyptian Museum opening, a promotion program that constitutes one of the main elements of the promotional campaign for Egyptian tourism, a part of the Egyptian pavilion has been dedicated to the museum, showing its maquette alongside three-dimensional images of King Tutankhamun's golden mask and throne.
--   Sent from my Linux system.