Still not holding my breath. Glenn
https://egyptindependent.com/zahi-hawass-says-nefertitis-tomb-could-be-discovered-in-a-matter-of-weeks/
Zahi Hawass says Nefertiti's tomb could be discovered in 'a matter of weeks'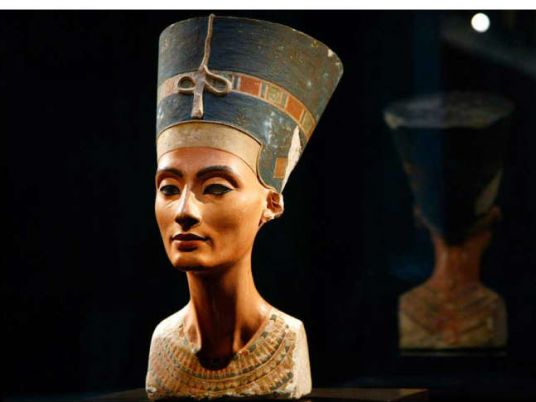 Prominent Egyptologist and former Minister of Antiquities Zahi Hawass told leading UK news outlet Express.co.uk that he hopes to discover the location of Queen Nefertiti's tomb in "a matter of weeks."
The famed Egyptologist told the English newspaper that Egypt's Valley of the Kings, where Hawass currently works in Luxor, houses the burial site of the legendary ancient queen. He went on to explain that he expects to uncover all of the tombs belonging to the 18th Dynasty's queen as well as tombs belonging to the children of various Kings, adding that recent research points to the existence of an unidentified burial site belonging to Egypt's ancient royals located near the tomb of Amenhotep III.
"They are all buried in this valley and I am still searching," Hawass stressed.
Hawass' groundbreaking statements came in the context of an ongoing worldwide tour of artifacts belonging to ancient Egyptian King Tutankhamun.
The tour kicked off on November 2, and the collection is currently being hosted by London's Saatchi Gallery under the title "Treasures of The Golden Pharaoh." The temporary exhibition in London is part of a worldwide tour across 10 countries marking the 100th anniversary of the discovery of King Tut's tomb that is set to continue until 2022, after which the artifacts in question will be permanently displayed in the new Grand Egyptian Museum.
"It's a very exciting thing to be able to tour the world with King Tutankhamun," Hawass commented during the same interview, adding that King Tut's "wishing cup" is his favorite piece from the treasured collection.
Meanwhile, King Tut's temporary exhibition in the Grande Halle La Villette in Paris broke records by attracting 1.5 million visitors, according to Hawass, who called the turnout "remarkable" in the context of other French cultural exhibitions.
"But it's also a huge responsibility — we are traveling with 150 masterpieces from the tomb of Tutankhamun," Hawass commented in an interview with Express.
Queen Nefertiti was the wife of ancient Egyptian Pharaoh Akhenaten, who ruled over Egypt during the 14th century B.C., and the step-mother of King Tut, whose tomb was unearthed in 1922 by Howard Carter. Her name means "the beautiful one has come."
In August 2015, British archeologist Nicholas Reeves announced that archaeologists could be on the brink of discovering Queen Nefertiti after he found wall markings in King Tut's tomb indicating the presence of a hidden doorway that may lead to another room. Reeves guessed that this chamber might belong to Nefertiti's tomb, according to Bigraphy.com.
Hawass is listed by National Geographic as an Explorer in Residence, and the famed Egyptologist was also included among the world's Top 100 Most Influential People of 2005 by TIME Magaz
--   Sent from my Linux system.