https://www.horwichadvertiser.co.uk/news-article/5083/Pot-luck-unearths-missing-piece-of-3-500-year-old-Egyptian-dish
Pot luck unearths missing piece of 3,500-year-old Egyptian dish
Published by:
Daniel Almond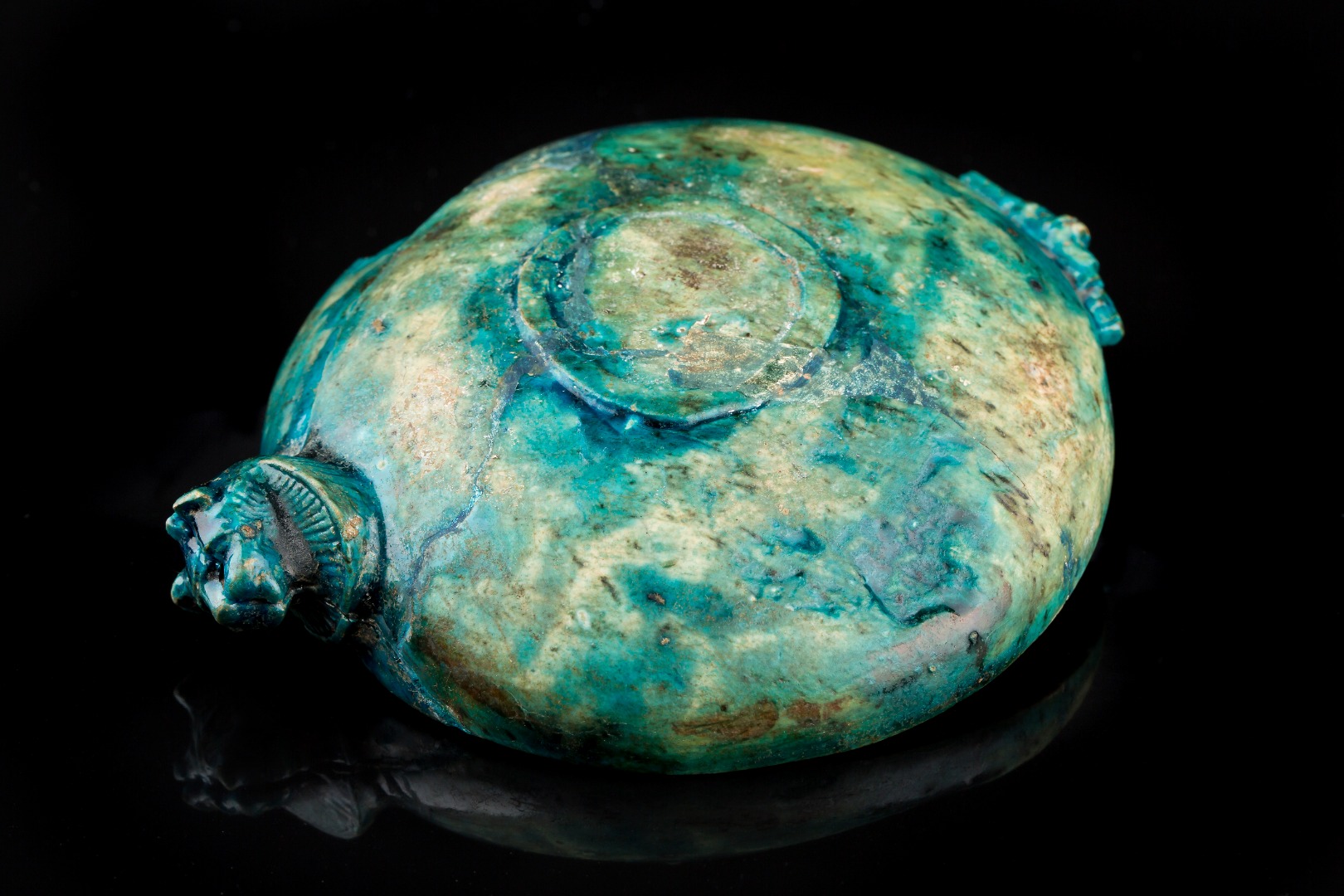 A chance discovery has led to a 3,500-year-old Ancient Egyptian dish joining Bolton Museum's Egyptology gallery.
In March, former Keeper of Egyptology at Bolton Museum, Tom Hardwick, was looking at objects in a private collection in Germany when he stumbled upon a shallow blue bowl depicting half a lion's head.
Tom, who worked in Bolton from 2005 to 2009, thought that the bowl might be a match for a lion-headed fragment owned by Bolton Museum.
He contacted the museum as the dish was due to go on sale at London's Bonhams auction house in July.
Current museum curator Ian Trumble took the Bolton piece to see if the two sections joined – and they were a perfect match.
Ian said: "We had swapped measurements and various angled photos over several months, but the only way we could be absolutely sure the two bits fitted together was to physically join them – and it was quite a magical feeling. 
"After carrying the fragment 200 miles to London, both myself and the staff at Bonhams gave a little gasp when the two bits joined.
"What was once a modest little fragment, probably unlikely to be displayed, is now able to go on permanent display. It's a small but beautiful piece.
"It would have been sad if it had been sold to a private collector and disappeared for another 80 years, now it can be enjoyed by everyone."
The blue-glazed bowl fragments date from the time when Thutmose III ruled Egypt in around 1480 BC. 
Thanks to the generous cooperation of Bonhams and a consortium of donors, Bolton Museum was able to acquire the matching piece.
The purchase was partly funded by the Bolton Archaeology and Egyptology Society, with the dish donated in memory of Mr V. Anthony Donohue.
An Egyptologist and archaeologist, Anthony was a member of the society since its foundation in 1958 and was a good friend of Bolton Museum for over sixty years.
The two sections have now been painstakingly attached together by museum conservator Pierrette Squires. 
The dish now takes prides of place in Bolton Museum's Egyptology gallery, alongside the exhibition's full-size recreation of Thutmose III's tomb.
Deputy Leader of Bolton Council, Cllr Martyn Cox, said: "It is astonishing that through a stroke of luck, we have managed to finally piece this 3,500-year-old dish back together.

"The generosity of our supporters means Bolton residents and visitors will be able to enjoy this unique artefact for many years to come."
The original fragment of the bowl was gifted to Bolton by Tamworth Castle in 1989 along with other ancient Egyptian artefacts that once belonged to Rev William Macgregor, an avid collector of Egyptian antiquities.
Both pieces of the bowl were in MacGregor's collection, but must have been disposed of in different lots and separated when his collection was sold at Sotheby's in 1922.
MacGregor, who was Vicar of Tamworth from 1878 to 1887, acquired many of his treasures through excavations in Egypt, as well as purchases on the art market. 
His Egyptian collection eventually contained over 9,000 objects.
MacGregor was on the committee for the Egypt Exploration Fund from 1888-1930 and Vice-President of the Liverpool Institute of Archaeology Committee from 1904 to 1936.

--   Sent from my Linux system.