https://www.patheos.com/blogs/danpeterson/2018/12/second-city.html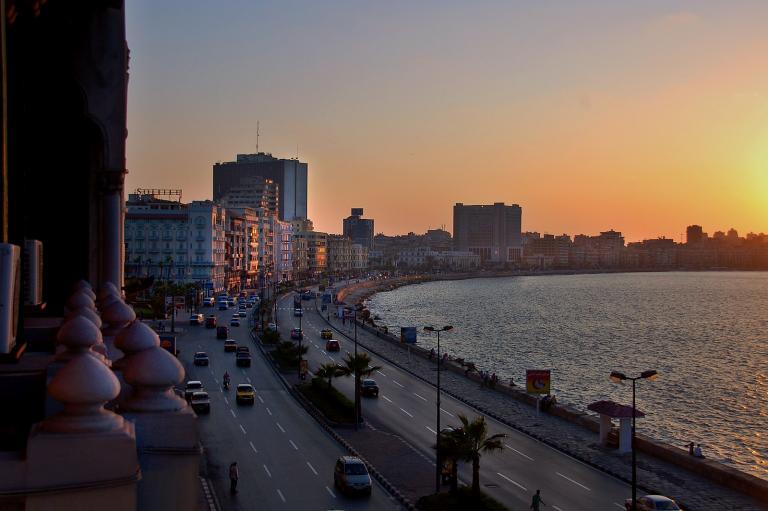 Before our actual tour begins in Egypt later this month , my wife and I will accompany another couple to Alexandria for two or three days.  (I always like to be at least a little bit less jet-lagged than the tour group that I'm accompanying.  They can fall asleep; I can't.)
Oddly, this will be only our second visit to Alexandria — which, for a time, was (after Rome) the second most important, influential, and powerful metropolis in the Mediterranean Basin.
And our first visit, which took place many, many years ago, was, well, something of a disaster in certain respects.
We went by train from our home in Cairo.  We were only staying for a short time, so our luggage was light.  I thought that my wife had put it into the taxi to the station.  She thought that I had.  So we ended up with only the clothes that we were wearing.  And our hotel?  This was long before the internet, so we had reserved a room without having first seen pictures of the place.  As an old friend would have put it, on a scale of one to five stars, the hotel we stayed in would have been rated a crescent moon.
But Alexandria was interesting.  The urban area is extended for quite a distance along the Mediterranean, but it doesn't (or didn't then, anyway) go very far inland.  And a substantial part of it faces onto a long and shallow bay, which means that, standing on the beach there, you can see a very considerable portion of the city.
I distinctly remember standing on that beach, looking at the city, and — out of the blue, because I hadn't been thinking religious thoughts at all — suddenly realizing that, so far as I could tell, I was the only ordained Latter-day Saint priesthood holder in all of greater Alexandria.  And that was, in a way, really saying something: It's the second largest city in Egypt, with a current population of approximately 5.2 million.
I had been eager to visit Alexandria for a number of reasons, not least of which was its importance as an ancient intellectual center for both Hellenistic pagan antiquity and then early Christianity.  Curiously, though, I had also, while perhaps still in high school or more likely during my undergraduate days, come under the spell of Lawrence Durrell's fictional tetralogy "The Alexandria Quartet" — in particular that of Justine (1957), but also of Balthazar (1958), Mountolive (1958), and Clea (1960).  I don't know why that was.  For the life of me, I couldn't tell you much if anything about them now, and I'm not sure that I could have told you anything about them by the time I finally made it to Alexandria.  But they had put the city on the map for me and had created something of a mystique about it — the sense of an exotic Middle Eastern city still heavily flavored with Italian and especially Greek influences.  (I'm still very fond of the modern Greek poetry of Constantine Cavafy, who was born in Alexandria in 1863 and who died there in 1933.)  That cosmopolitan city was, alas, long gone when I arrived.  Gamal Abdel Nasser's revolution, his nationalizations, and his turn toward the Soviets had intervened.  The British expatriates had left, and although there were still signs identifying Italian ristorantes and Greek tavernas, so had the Italians and the Greeks, and the restaurants and tavernas were all Egyptian.
But I'm very much looking forward to seeing Alexandria again.  And perhaps — I still own them — I'll reread Lawrence Durrell's novels again.
--   Sent from my Linux system.