https://ww.egyptindependent.com/chicago-university-mission-discovers-two-artifacts-in-edfu/
Chicago University mission discovers two artifacts in Edfu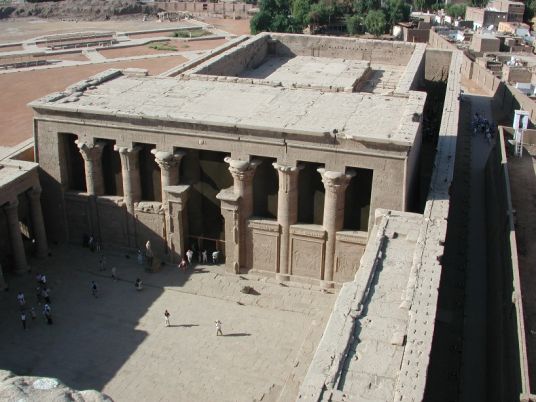 The American Archaeological Mission of the University of Chicago, which works in the archaeological area of ​​Tell Edfu in Aswan, has uncovered a fragment of a cylindrical column of limestone dating back to the beginning of the Eighteenth Dynasty of the New Kingdom.
The discovered column is 165 cm long and its diameter is 28.5 cm, Secretary General of the Supreme Council of Antiquities Mostafa al-Waziry said.
A line of hieroglyphic inscription included the name of "Amen-Mes", a grand priest of the ancient Egyptian god Horus, according to Waziry.
The mission also discovered the bust of a woman made of sandstone in Edfu, which measures 20 centimeters in height, 10.6 centimeters in length, and 7.8 centimeters in width. It dates back to the age of the Nineteenth Dynasty, Waziry mentioned.
This season, the same mission found a full statue of a scribe in the sitting position made of black Diorite. The statue had writings on all four of its sides. The statue was 23.4 centimeters tall, 13.7 centimeters long, and 7.4 centimeters wide, Director General of the Aswan and Nubia Antiquities Abdel Moneim Saeed said.
Edited translation from Al-Masry Al-Youm
--   Sent from my Linux system.