https://www.theepochtimes.com/egypt-winery-seeks-ancient-inspiration-for-present-day-success_2722865.html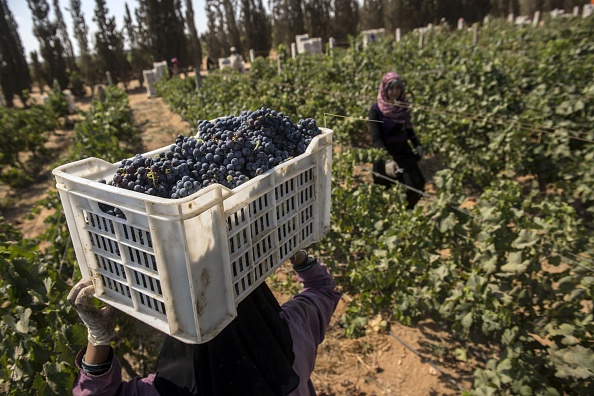 Egypt Winery Seeks Ancient Inspiration for Present-Day Success
December 11, 2018
Updated: December 11, 2018
Under the dry soils and hot sun of Egypt's Red Sea, a small winery is fighting to produce an award-winning all-Egyptian wine.
The adverse conditions of Egypt's climate prove disadvantageous for any wine, yet the Kouroum of the Nile winery seeks ancient Egyptian inspiration for present-day success.
Ancient Egyptian tombs were found to contain drawings of wine-making, and the people were known to be avid wine-drinkers. After Islamic conquests throughout the Arab world, wine-making was halted until the 20th century, when European migration to Egypt started rebuilding the industry.
In 2003, however, Kouroum of the Nile was established. The winery eventually reached a production capacity of almost 4 million bottles a year of organic Egyptian white, red, and rosé wine.
It has managed to rake in 14 international medals, including Bronze at the Decanter World Wine Awards in 2012, and the Challenge Millésime Bio for their Jardin du Nil red wine.
"When [tourists] drink wine, they have to drink wine that reflects Egypt, its farms, its sun, and its weather," said Lebanese wine manager Labib Kallas. "Everything related to Egypt must be reflected in the glass of wine you are drinking. And this is what we are doing."
Rania Mubarak, marketing representative for the winery, said that she was first shocked by the challenges she found when she began delving into Egyptian wine, such as the hot sun and the lack of a wine-drinking culture.
Due to the hot sun, Egyptian grapes typically mature in July, as opposed to the French fruit, which takes a longer time to ripen, affecting the overall taste and quality.
The tax on imported wine is high in Egypt, which has also influenced the production of local wine by the company, which mainly aims to serve tourists.
Realizing these limitations, the winery still pushes to produce an acceptable all-Egyptian wine from the local Banati grape, a first in the world of winemaking in Egypt.
"What we are doing here is the revival of the Egyptian vineyard," Mubarak said. "We are rebuilding, we are replanting the vineyard, in extreme conditions, let's say. It is not a welcoming environment because the people are not wine drinkers in the country. So we are introducing a culture for the Egyptian."
Kouroum of the Nile faces competition from Dutch giant Heineken, but the Egyptian establishment is the only one to rely solely on homegrown grapes.
--   Sent from my Linux system.