https://citizen.co.za/news/news-africa/1727985/egypt-archaeology-mummy/
Archaeologists find Greco-Roman mummy in Egypt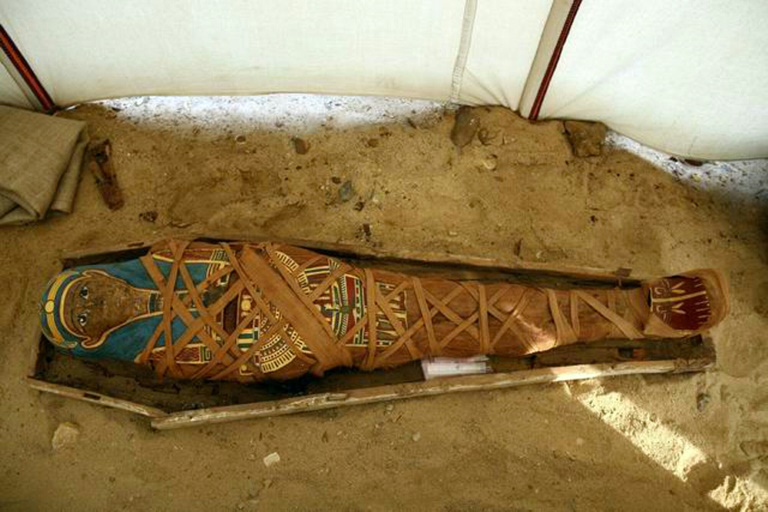 A Russian archaeological team has discovered a well-preserved mummy from the Greco-Roman period in a wooden coffin south of Cairo, Egypt's antiquities ministry said Tuesday.
The discovery was made near New Fayoum city, about 80 kilometres (50 miles) south of the Egyptian capital, the ministry said in a statement.
The team "found inside the coffin a well-preserved mummy, wrapped in linen, with its face covered by a human mask with drawings in blue and gold," it said.
While mummification is mostly associated with ancient Egypt, the practice continued into the Greco-Roman era.
The Russian team made its discovery near a monastery in the village of Qalamshah.
"The expedition carried out an initial restoration of the coffin and the mummy, as the coffin was found in a bad condition," the ministry said, citing the minister's assistant Mohamed Abdel Lateef.
The statement did not say when the discovery was made.
"The cover is broken and the base has several cracks, and it doesn't have an inscription on it," it added, citing Abdel Lateef.
The Russian mission has been operating for seven years in the area, which has Islamic and Coptic monuments as well as others from the Greco-Roman period (330 BC-670 AD).
--   Sent from my Linux system.