https://www.pressandjournal.co.uk/fp/news/1872473/new-work-celebrates-life-and-letters-of-egyptologist-who-helped-discover-tutankhamun/
New work celebrates life and letters of Egyptologist who paved the way for Howard Carter's expedition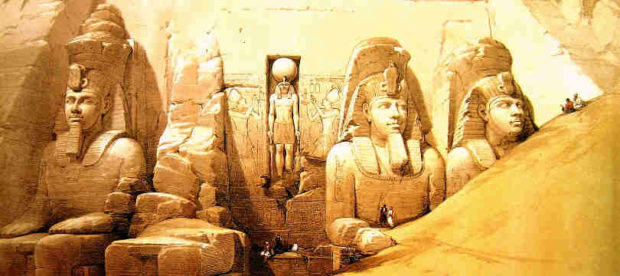 He was the man who deciphered the Egyptian hieroglyphs and paved the way for the unearthing of such remarkable treasures as the lost tomb of Tutankhamun.
Yet little is known about Jean-Francois Champollion, the French scholar and founding figure in Egyptology, whose short life – he died in 1832, aged just 41 – belied the scale of his achievements in bringing the past back to life.
However, even as the largest collection of Tutankhamun's treasures prepare to go on show in London next week, a new book of Mr Champollion's letters from his exhibition in Cairo in 1828 has revealed his sense of scientific wonder at visiting Memphis and casting his gaze on the Pyramids for the first time.
'My Journey to Egypt' illustrates how his work inspired excavations such as Howard Carter's at Memphis from 1907 to 1922 which led to the discovery of Tutankhamun.
He also detailed his occasionally hair-raising experiences while escorting a party of youngsters into previously uncharted territory as West met East 200 years ago.
Following his visit to Memphis, Mr Champollion wrote: "We managed to scale the hill and, having at last reached the top of the plateau, we could take in the devastation that centuries have wreaked on the graves of the Memphites.
"Just think of an immense flat expanse through which pyramids push up, pockmarked with tiny mountlets of sand covered with bits of antique pottery, swaddling rags of mummies, broken and desiccated bones, Egyptian skulls blanched by the morning
dew of the desert, and any kind of rubbish you can think of.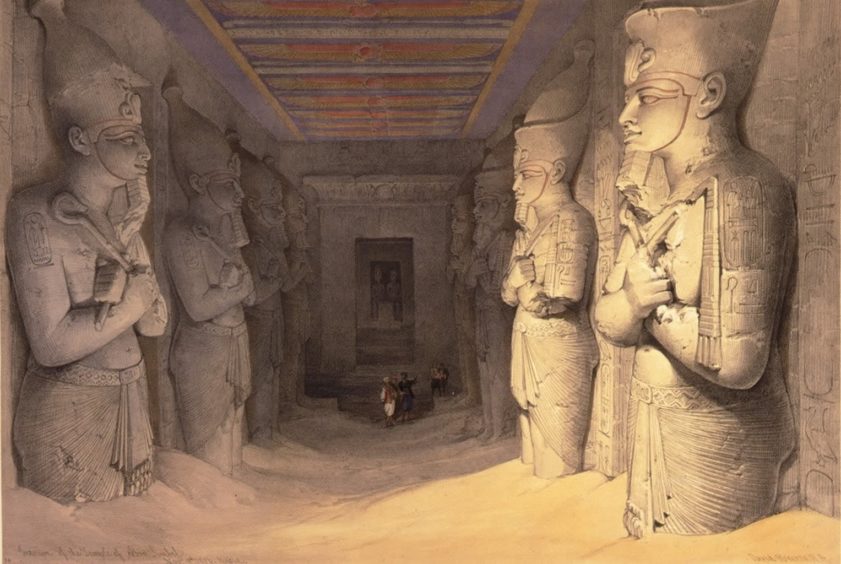 "At every instant, one comes across, at one's feet, either a dried-brick wall, or the
opening of a square shaft clad in dazzling freestone but filled in with the
sand that the Arabs dig up as they search them.
"All these mountlets are the result of the hunts for mummies and antiquities, and the number of the tunnels or tombs of Sakkara must be gigantic if you consider that the
sand that is blown about covers up several other openings."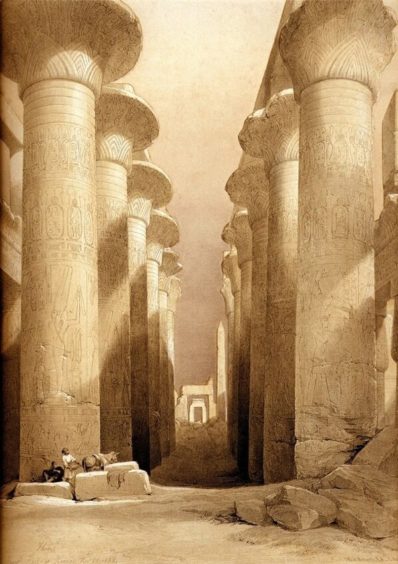 Mr Champollion was an adventurous character and had more in common with Indiana Jones than a stuffy academic. On his journey, he and his fellow expedition members arranged parties, mixed with the indigenous people and their shared experiences allowed him to make sense of the messages inscribed on ancient monuments.
But, eventually, he began to have misgivings about how matters were unravelling.
He added: "We absolutely have to leave Cairo before my young people start to embrace habits which will subsequently be difficult to shed.
"This city, which so many people dislike, has cast its spell on them, and I have come
to the conclusion that such a great capital cannot fail to impress young uncritical minds who respond deeply to the picturesqueness of the things and people among
whom they have been miraculously transported."
The Tutankhamun treasures will celebrate 100 years since the boy king's tomb was found and include 160 artefacts – including jewellery, weapons, coffins and statues.
London is the third of 10 cities to host the exhibition, with artefacts on display at the Saatchi Gallery from November 2 until next May.
My Journey to Egypt by Jean-Francois Champollion will be published by Gibson Square on November 7.
--   Sent from my Linux system.