https://egyptindependent.com/gem-entrance-ticket-price-set-at-le30-for-egyptians-minister/
GEM entrance ticket price set at LE30 for Egyptians: minister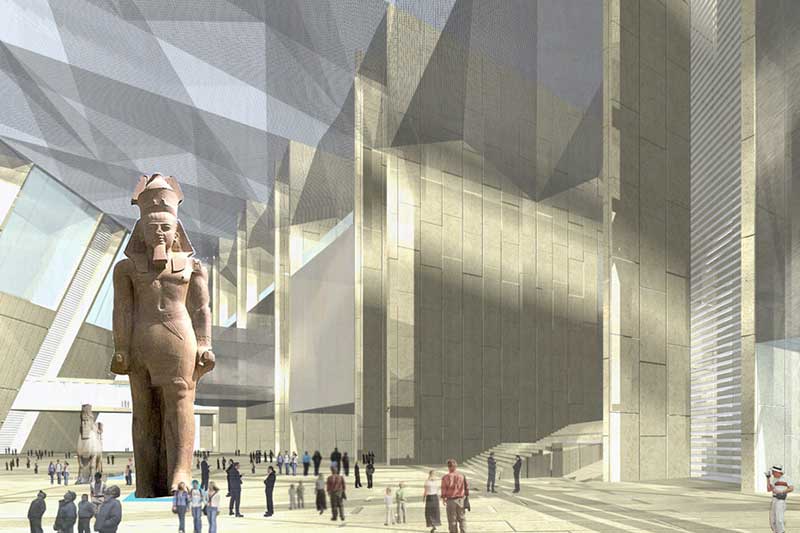 The entrance ticket to the Grand Egyptian Museum (GEM) for nationals will be LE30, while the inclusive ticket for the entire complex will be LE60, Egyptian Minister of Antiquities Khaled al-Anani said on Sunday.
The museum will be an integrated cultural complex full of amenities, theaters, cinemas, restaurants and entertainment sites, meant to attract visitors for a full day rather than a few hours, the minister added.
He also said that through the museum, Egypt offers a gift to humanity in the fields of civilization and archaeology.
Anani stated that a visit to the GEM will be a real opportunity to introduce the visitor, whether Egyptian or foreign, to Egyptian civilization and to offer visitors some educational seminars on ancient Egypt.
Anani's remarks came on Sunday after the Culture, Media and Antiquities Committee of the House of Representatives approved the Prime Minister's decree for a draft law proposing to reorganize the GEM institutional structure.
The Minister stressed that the draft law allows the participation of foreign experts in the administration.
He explained that there is already a Japanese grant for the presence of Japanese experts in the field of marketing, services and other fields, but not the field of antiquities.
The Egyptian Antiquities Ministry said that the opening of the GEM will be the largest celebration ever organized by Egypt. A major international company specialized in organizing such grand celebrations will be contracted for this purpose in accordance with the schedule.
Egypt's Prime Minister said that the opening of the GEM reflects positively on the civilization and history of ancient Egypt, and is a great opportunity for marketing Egypt and promoting tourism.
The GEM's construction is 88 percent complete and the museum is set to open by 2020, before the previously-announced official date in 2022.
Construction of the museum first began in 2006 but slowed down due to the outbreak of the January 25th revolution.
Breaking new ground in its exhibited artifacts, the museum aims to impress with King Tutankhamun displays that have never been shown before since Tut's tomb's unearthing in 1922. Egypt's Tourism Minister Rania Al-Mashat said in May that King Tut's tomb will be displayed via hologram technology during the opening of the GEM.
Constructed on approximately 500,000 square meters, the mega museum is located nearby the Giza Pyramids. The GEM is expected to be one of the largest museums in the entire world dedicated to the heritage of a single civilization.
After several years of monument examinations, restoration and transportation, the GEM is expected to house around 100,000 artifacts from various periods of Egypt's rich, long history.
Edited translation from Al-Masry Al-Youm
--   Sent from my Linux system.