https://www.egyptindependent.com/djoser-pyramid-renovation-95-percent-complete-at-le90-million-cost-ministry/
Djoser pyramid renovation 95 percent complete at LE90 million cost: Ministry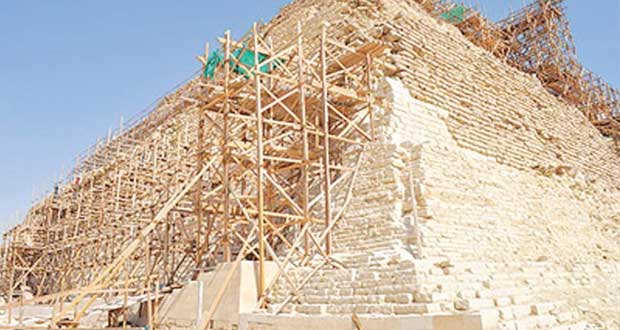 Egypt's Ministry of Antiquities has completed 95 percent of renovation works on Djoser's step pyramid, at a cost of LE90 million ahead of opening it in November, stated the head of the ministry's Project Sector Wadallah Abu al-Ella on Wednesday.
Abu al-Ella informed financial website al-Borsa that the al-Shorbagy Company for constructions carried out the renovation work, including protecting the first step from  rainwater through installing protective stones.
The renovation works also included replacing worn-out stone bricks with new pieces made of the same materials, as well as replacing unstable stones to prevent their collapse.
Holes and gaps on top of the six steps have also been filled.
The remaining work will involve maintenance of the vertical well's walls and completing maintenance of the well's roof.
Abu al-Ella clarified that the company implements these renovations through utilizing modern scientific methods under the supervision of several archaeologists.
The pyramid's restoration work halted since 2011 after UNESCO issued a report in September of that year stating that the pyramid's exterior had not been maintained for centuries.
According to the report, damage to the pyramid including removed dirt blocks causing multiple large cavities in several areas as well as blocks hanging without pillars to protect them.
The more than 4,600-year-old pyramid was the first built by ancient Egyptians and was constructed from limestone for Pharoah Djoser, who ruled from 2686 to 2613 BC.
Six unequal steps form the pyramid, which is 62m high. Inside, the pyramid hosts a network of corridors and a granite and marble burial chamber.
--   Sent from my Linux system.