https://www.recordgazette.net/news/more-than-books-about-ancient-egypt-donated-to-california-state/article_21804ea0-f9c1-11e9-a1ae-2782ea70398e.html
More than 2,200 books about ancient Egypt donated to California State University, San Bernardino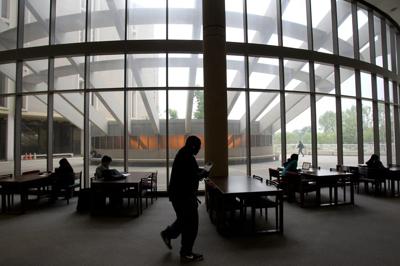 C. Kenworthey Harer and Cynthia Harer-Gibbs — children of W. Benson Harer, longtime friend and supporter of California State University, San Bernardino — generously donated more than 2,200 books worth over $300,000 to the John M. Pfau Library and the Robert and Frances Fullerton Museum of Art (RAFFMA) at CSUSB.
All of the books, which examine ancient Egypt, will complement the expanding study of ancient Egypt on campus as well as the ancient Egyptian collection housed at RAFFMA.
Many of the books are unique, primary sources that will support advanced research by CSUSB students, faculty and visitors, and will be an asset to all California State Universities.
The donated books include resources for the study of ancient Egypt and ancient Egyptian objects. It includes a complete three-volume set of original prints from David Roberts' Egypt and Nubia, painted between 1846-1849.
Dating to 1831 and 1837 is one of the world's only copies of Cailliaud Frédéric's Recherches sur les arts et métiers, les usages de la vie civile et domestique des anciens peuples de l'Égypte, de la Nubie et de l'Èthiopie.
The collection also abounds with original publications of tombs, temples and pyramids. Moreover, the collection specializes in museum catalogs, exhibition catalogs and auction catalogs, allowing for the specialized research of ancient Egyptian objects divorced from their archaeological contexts.
Eva Kirsch, RAFFMA director, said she is happy to see the books coming back to San Bernardino, where they used to be for so many years. She is also grateful for the donation of the rare Roberts' elephant edition volumes to RAFFMA, which makes the museum special, and for the now largely expanded library collection.
"It is truly valuable and helpful to all of us at RAFFMA to have this amazing resource available to the museum — our staff, interns, and student assistants conducting research, as well as anyone interested in Egyptology on the CSUSB campus and beyond," Kirsch said.
CSUSB's librarian Jill Vassilakos-Long mentioned that many years ago, her mother, Marion Vassilakos, served as a RAFFMA docent. Marion was frustrated by the limitations of Pfau Library's collection, but understood that the budget for materials on history is small and has millennia to cover.
She purchased some books to help her understand the museum's collections and then donated some of them to the library. Vassilakos-Long said her mother would have been absolutely amazed and thrilled at the wealth of knowledge that has been donated.
"The donation of these books will elevate the level of teaching and research that can be done at CSUSB by students and faculty," said Kate Liszka, CSUSB's Benson and Pamela Harer Fellow in Egyptology. "I'm so excited that we now have access to primary source materials regarding objects in museums and the study of medicine in the ancient world. The numerous museum catalogs from permanent collections and exhibitions around the world and even the Egyptian Museum's Catalogue Général will change the types of assignments I can do with my students when I teach classes like Ancient Egyptian Art. The Harers' donation is extraordinarily generous and an effective means of supporting quality education at CSUSB for years to come."
For more information on Cal State San Bernardino, contact the university's Office of Strategic Communication at (909) 537-5007 and visit inside.csusb.edu .
--   Sent from my Linux system.