https://www.egyptindependent.com/egyptologist-zahi-hawas-reveals-secrets-of-antiquities-in-new-book/
Egyptologist Zahi Hawass reveals antiquities secrets in new book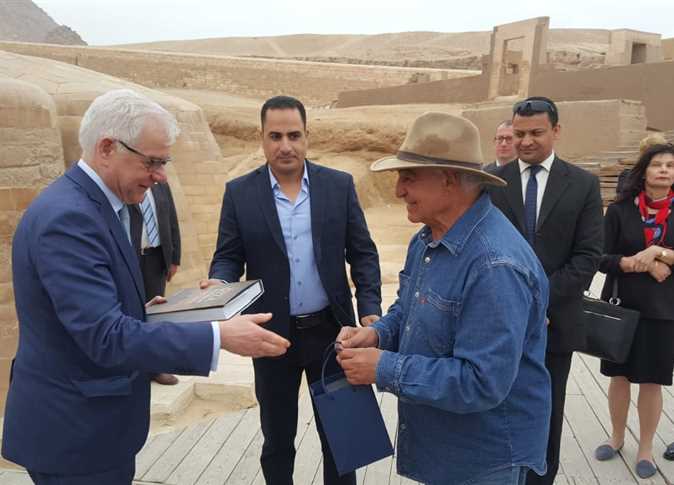 Egyptologist Zahi Hawass held a book signing on Thursday at the Nile Ritz-Carlton in Cairo for "Asrar Masr" (Secrets of Egypt), a book he authored about the tourist sites of Egypt such as Luxor's Valley of the Kings and Fayoum's Wadi El-Hitan. The book also tells about Egyptian streets, churches, mosques and coffeeshops from the Islamic and Coptic eras.
Hawass said at the event that the book contains ten chapters full of his memories and adventures with the monuments over his career and a full description of the tourist sites of Egypt, along with maps of several sites.
In June, he signed the book at a celebration in the United States after delivering several lectures on ancient Egyptian civilizations at the Houston Museum of Natural Science in Texas. The lectures were attended by 600 persons.
Hawass pointed out that the government unveiled the newly discovered 2,500-year-old mummy of a high priest in Minya in April, demonstrating that Egypt still contains several un-excavated antiquities.
Hawass invited Minister of Antiquities Khaled al-Anani, Ex-Minister of Culture Farouk Hosni, Ex-Minister of Antiquities Mohamed Ibrahim, Ex-Minister of Electricity Hassan Younes, Artists Hussein Fahmy and Yehia El Fakharany, Ex-President of Ahly Club Mahmoud Taher, and Secretary General of the Supreme Council of Antiquities Mostafa Waziri to attend the Ritz-Carlton signing.
Artists Wafa Salem and Ahmed Shaker, Director of the Bibliotheca Alexandrina Antiquities Museum Hussein Abdel Basser, Professor of Egyptian Antiquities at Cairo University Ahmed Badran, the French and US Ambassadors, President of the American University in Cairo (AUC), and several ministers and ambassadors of Arab and other foreign countries also attended the celebration.
Hawass was listed by National Geographic as an Explorer in Residence, and was also included among the world's Top 100 Most Influential People for the year 2005 by TIME Magazine. In 2008, he was notably granted the position of Goodwill Ambassador to Japan by the Egyptian and Japanese Ministries of Foreign Affairs.
--   Sent from my Linux system.