https://egyptianstreets.com/2019/09/13/egypt-belgium-mou-secures-egp-16-m-for-baron-palace-renovation/
Egypt-Belgium MoU Secures EGP 16 m For Baron Palace Renovation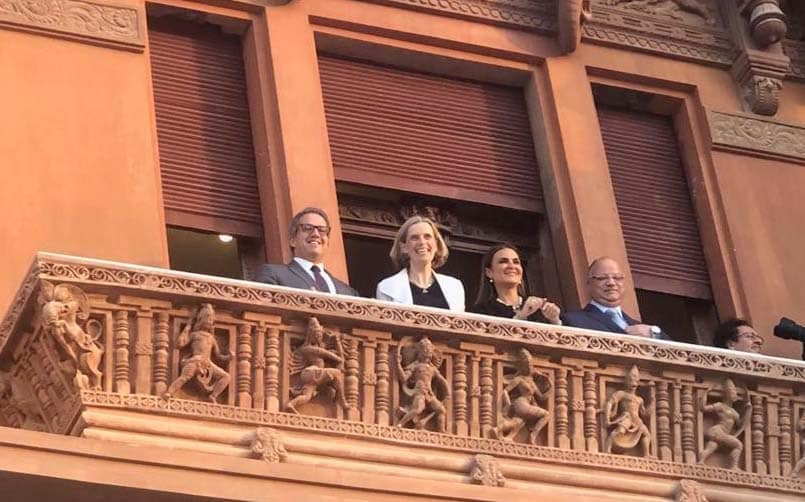 Taking the renovations of Heliopolis' iconic Baron Palace to a further step forward, Egypt and Belgium have signed a memorandum of understanding granting the palace EGP 16 million for its restoration.
The MoU of the fund, which was signed on Thursday, seeks to establish a plan to manage and maintain the palace.
"We are currently considering expanding the loan exchange programme with Belgium, Italy, and Germany as this allows for investing the loans in priority venture and development projects in Egypt," said Egyptian Minister of Investment and International Cooperation Sahar Nasr according to Al Ahram.
The signing of the MoU was attended by Nasr, Ministry of Antiquities Khaled El Anani and Belgian Ambassador to Egypt Sibille de Cartier.
The news was also shared by the Embassy of Belgium on its official Twitter account in which it expressed pride in its contribution to preserve cultural heritage
Inspired by the Hindu temple of Angkor Wat (Cambodia), the mansion is often referred to as the Hindu Palace. It was built by a Belgian millionaire and the founder of Heliopolis Edouard Louis Joseph, or Baron Empain at the end of the 19th century.
In August, Egyptian authorities announced that the palace would be open to the public in October 2019. They hope that the establishment will be used to showcase the history and the development of Heliopolis through the years.
The Palace's much-needed renovation, which started in August 2017, was reported to cost 104 million EGP.
While photos of the restoration have been circulating online, the works have come under heavy criticism for the choice of the outer paint of the palace and the demolition of its outer walls.
Regarding the color, the familiar beige color of the building was turned into a burnt sienna color.
The Ministry of Antiquities reassured the public that the restoration is carried out as accurately as possible after it studied old photographs and documentation as well as carried out tests which revealed the true color of the palace.
--   Sent from my Linux system.