https://www.egyptindependent.com/egyptian-grand-museum-receives-181-artifacts-from-tahrir-museum/
Egyptian Grand Museum receives 181 artifacts from Tahrir Museum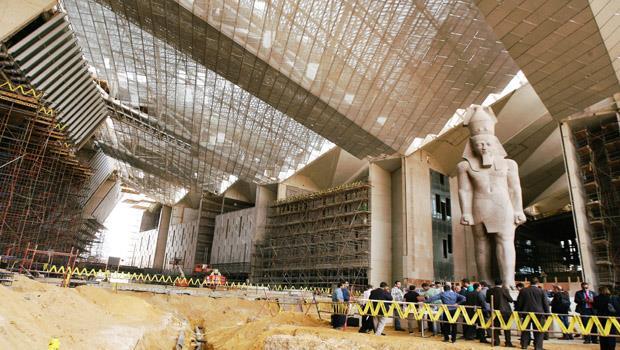 The Egyptian Grand Museum received 181 artifacts from the Tahrir Museum on Thursday amid high security measures from the Tourism and Antiquities Police, and under the supervision of the General Supervisor of the Grand Museum Project Atef Muftah.
Director of the Archaeological Affairs at the Egyptian Grand Museum Tayeb Abbas said that these artifacts include a collection of distinctive statues made of colorful wood dating to Egypt's Middle Kingdom, and boat models carrying sailors.
Abbas explained that the artifacts also contained a sandstone statue of King Akhenaten holding a scepter, which dates back to the New Kingdom and was discovered in Luxor's eastern bank.
General Director of the Preliminary Restoration at the Grand Museum Issa Zedan asserted that the restoration team carried out repairs including the mechanical cleaning, strengthened the weak crusts in the artifacts prior to packaging work, and preparing a report on the condition of the artifacts.
Zidan added that the artifacts reached the repair center in good condition, with packaging to be completed prior to the inauguration of the Egyptian Grand Museum in 2020.
--   Sent from my Linux system.