https://www.theguardian.com/environment/2018/mar/14/mummys-boys-ibises-all-wrapped-up-as-presents-for-the-gods
Mummy's boys: young ibises all wrapped up as presents for the gods
They might be disparaged as bin chickens now but in ancient Egypt they were revered
Saskia Mabin
Tue 13 Mar 2018 21.30 EDT
Last modified on Tue 13 Mar 2018 21.39 EDT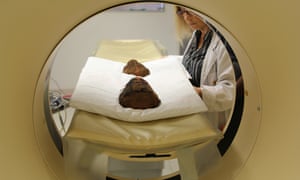 Helen Laurendet, a senior radiographer at the University of Sydney, prepares the ibis mummies for scanning. Photograph: University of Sydney
In Australia they're reviled as bin chickens. But in ancient Egypt, ibises were revered and offered as gifts to the gods.
Two mummified ibises have given researchers at the University of Sydney a riveting insight into their ancient appeal.
Two ibis packages have been part of the university's Nicholson collection since 1914. They were discovered in 1913 in Abydos, Egypt, by the British-based Egyptian Exploration Society; the university had helped pay for its excavations.
The assistant curator of the Nicholson museum, Candace Richards, said: "Part of why I think this research has such resonance and fun in Australia is that ibises are called bin chickens and everybody thinks they are this kind of dirty, scavenger animal now, but in the ancient world they were this revered, respected bird that was mummified for the gods."
The original paper documenting the excavation described an "ibis cemetery" near the Royal Tombs. About 2,500 ibises were uncovered there. Many were preserved inside 93 clay jars.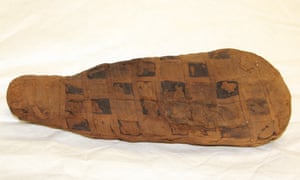 One of the mummified ibises in the Nicholson collection at the University of Sydney.
One of the mummified ibises in the Nicholson collection at the University of Sydney. Photograph: University of Sydney
These remains are believed to date to the Roman period, making them 2,000 years old.
In ancient Egypt, the ibis was sacred to the god Thoth, the scribe of the gods. Richards said ancient Egyptians would buy mummified ibises to offer to the gods.
Richards said there were such things as "ancient fakes", where people would be sold mummified packets containing only parts of the bird, or no bird at all.
Research based on x-rays taken before the 1990s suggested one of the mummified packets being studied contained two ibises and the other contained only a single thigh bone.
But last year, using neutron tomography – an imaging technique never before used on mummified remains – Richards and her research partner, Egyptologist Dr Conni Lord, and a scientist, Filomena Salvemini, found that the packet thought to contain only a thigh bone actually contained a whole ibis, complete with feathers.
"The only way you can really understand these things is by using this type of technology," Richards said. "You can't unwrap them because that would then destroy that artefact, so we've got to be creative."
CT scans of the mummified packets that Richards and a senior radiographer, Helen Laurendet, took last week found the two ibises in the same package were juveniles.
"We've found that you can use neutron tomography to see inside these packets and they give you quite a different result to CT scans," Richards said. "So by merging those two different data sets together, we're going to get a really robust picture."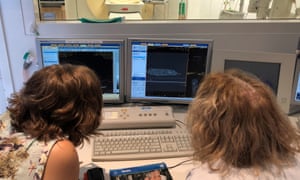 Candace Richards and Helen Laurendet watch as the ibis mummies are scanned. Photograph: University of Sydney
Richards and her colleagues now plan to study more about the role of ibises in the ancient world.
"Now we can look at how the animals were treated," she said. "Did they die of natural causes? Were they sacrificed? Why were they mummified? That's where the next stage of this research project is going."
The two wrapped packets are on display at the Nicholson museum. They will eventually form part of an exhibition planned for 2020.
Since you're here …
… we have a small favour to ask. More people are reading the Guardian than ever but advertising revenues across the media are falling fast. And unlike many news organisations, we haven't put up a paywall – we want to keep our journalism as open as we can. So you can see why we need to ask for your help. The Guardian's independent, investigative journalism takes a lot of time, money and hard work to produce. But we do it because we believe our perspective matters – because it might well be your perspective, too.
-------------
If everyone who reads our reporting, who likes it, helps fund it, our future would be much more secure.
For as little as $1, you can support the Guardian – and it only takes a minute.
Thank you.
Support The Guardian
--   Sent from my Linux system.