https://egyptindependent.com/egypt-invites-world-to-virtual-tour-of-the-tomb-of-ramses-vi/
Egypt invites world to virtual tour of the Tomb of Ramses VI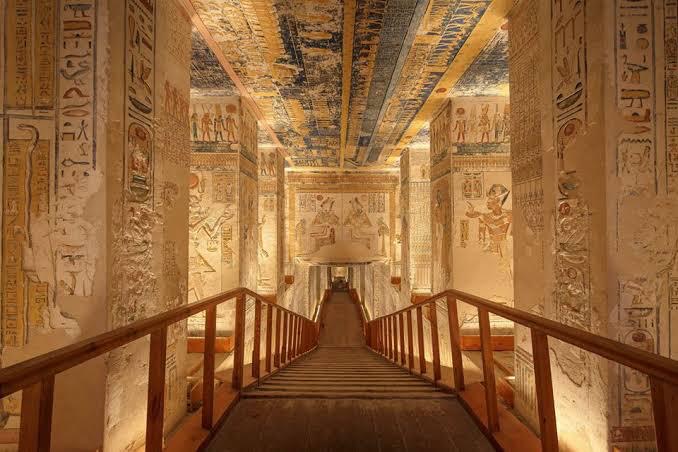 Egypt's Ministry of Tourism and Antiquities has launched a virtual tour of the Tomb of Ramses VI (KV9) on its official website, social media accounts (Facebook
, 
Instagram
, 
Twitter
 and Experience Egypt).
The ministry outlined the tomb's archaeological significance in an official statement.
Dating back to the Twentieth Dynasty, the tomb was originally established by King Ramses V. And while it still remains unknown as to whether or not he was even buried there, it was eventually taken over by his uncle Ramses VI.
King Ramses VI expanded the tomb significantly and was eventually laid to rest there.
According to the statement, the huts of the workers who constructed the tomb were built on the tomb of the staircase leading to none other than the tomb of King Tutankhamun.
"In other words," the statement said, "it's thanks to the tomb of Ramses VI that Tutankhamun's tomb was discovered in 1922, with all of its world-famous treasures inside."
Among the notable features of the tomb of KV9 are its incredibly well-preserved wall reliefs and decorations, which include funerary texts designed to aid the king's journey into the afterlife.
These include the Book of Gates, the Book of Caverns, the Amduat, and the Book of the Dead.
A lookup reveals the tomb's exquisite ceiling decorations which include astronomical scenes. Within the burial chamber, the ceiling is dedicated to sky goddess Nut who is depicted with a sun disk she is about to swallow.
This symbolizes the sunset.
Throughout Nut's body, twelve sun disks can be seen representing the daily twelve-hour journey the sun god goes through at night in the underworld before he can be reborn.
The statement concluded that this represents how the mortal king could "achieve a glorious rebirth in the eastern horizon at dawn."
The Ministry of Tourism and Antiquities teamed up with its partners from scientific and archaeological institutes in an effort to offer a series of virtual and guided video tours of a wide array of museums and archaeological sites around Egypt.
The ministry released on April 10 the second installment in a series of virtual and guided video tours of a wide array of museums and archaeological sites around Egypt.
This initiative, which has been recently launched under the slogan "Experience Egypt from Home. Stay Home. Stay Safe", aims to enable people worldwide to embark on a journey through the ancient Egyptian civilization during their home confinement, within the precautionary measures taken to fight the coronavirus (COVID-19) outbreak.
--   Sent from my Linux system.