https://egyptindependent.com/tourists-flock-to-egypts-hatshepsut-temple-to-catch-glimpse-of-rare-astronomical-phenomenon/
Tourists flock to Egypt's Hatshepsut Temple to catch glimpse of rare astronomical phenomenon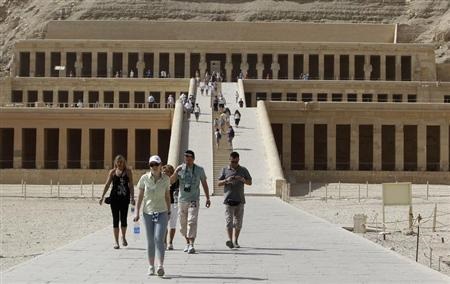 Tourists in Egypt flocked to Queen Hatshepsut Temple on Monday to witness the sun fall perpendicular on the holy shrines of the ancient monument, a unique astronomical phenomenon marking the ancient Egyptian festival of the Goddess Hathor.
A group of Japanese tourists visited the temple, which is located west of Egypt's Luxor, in order to witness the phenomenon, with dozens of visitors from countries around the world taking photos inside the complex.
The Temple of Queen Hatshepsut was constructed to fit seamlessly into the area's surrounding landscape and high cliffs, and the temple was designed on a solar axis to receive the winter sun. The sun falls perpendicular to the temple's holy shrines on January 6 and December 9, which used to mark celebrations for the ancient Egyptian goddess Hathor and the god Horus, who served as a symbol of royal power and legitimacy in ancient Egypt.
The deities were celebrated by ancient Egyptians in separate winter feasts, during which various religious rituals were performed.
President of the Egyptian Association for Archaeological and Tourism Development Ayman Abu Zaid has pointed out that these types of astronomical events attract tourists from around the world to Egypt. 
He explained that the movement of celestial bodies was linked to religious customs among ancient Egyptians, who were keen to build their religious temples in relation to light emitted by the sun, moon and stars.
The ancient Egyptians were fascinated with linking astronomy with architecture and engineering, which is reflected in the construction of ancient temples like Hatshepsut, Abu Zaid said.
The association has been documenting astronomical phenomena in ancient Egyptian temples in cooperation with Egyptian researcher Ahmed Awad for seven years, he added.
Awad, whose research focuses on astronomical phenomena in the temples and cemeteries of ancient Egyptians, said that he is currently working with the association on a project aiming to place Egypt on the astronomy tourism map, with the proposal to be submitted soon to Egypt's tourism and antiquities minister.
Meanwhile, tour guide Saleh Amin said today was the first time that he participated in celebrating the phenomenon of the sun falling perpendicular to the Queen Hatshepsut Temple, while accompanied by a tour group from Japan who came specifically to witness the phenomenon. 
Edited translation from Al-Masry Al-Youm
--   Sent from my Linux system.