https://www.hawaii.edu/news/2021/12/17/robert-littman-50-years/
Professor who helped recreate Cleopatra's perfume marks 50 years at UH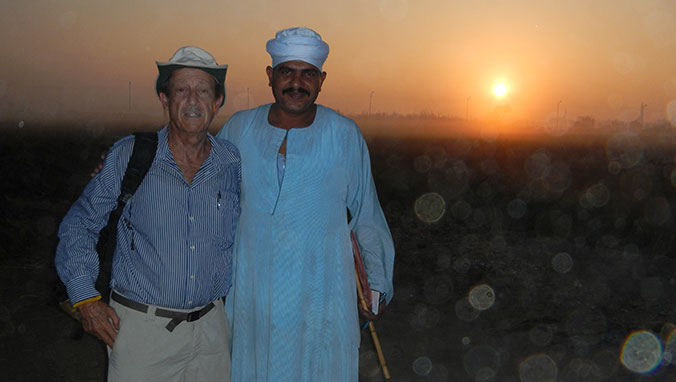 World renowned scholar in Greek history and literature, ancient medicine and archaeology Robert Littman celebrated 50 years at the University of Hawaiʻi at Mānoa in September. Littman was recruited by UH in 1971 and is a professor in the College of Languages, Linguistics & Literature (CALL). He is known for, among other things, helping recreate Cleopatra's perfume and a project based in Egypt where UH students participate in the excavation of an ancient city.
UH Mānoa pursued Littman when he was at Brandeis University in Boston. Littman's wife suggested that they go to Hawaiʻi for what they thought would be one year, and it turned into more than five decades. Littman earned a BA in classical languages from Columbia University, a masters in ancient history from the University of Oxford and a PhD in classical philology from Columbia University.
"One of the things I've appreciated about being out in Hawaiʻi is, since I teach in a small program that is not very specialized, I have not been pigeonholed," said Littman. "I've had the opportunity to diversify my academic work here. I started out as a classicist and historian with a little bit of archaeology. And in Hawaiʻi, I've gradually shifted into biblical studies in both Hebrew bible and Greek bible and biblical history. And then I expanded my work in Egyptology in both teaching and researching in the ancient Egyptian language and moving into Egyptian archaeology."
Littman's achievements
Littman has amassed a myriad of accomplishments over his time at UH including: being selected as the 2018 recipient of the Archaeological Institute of America Martha and Artemis Joukowsky Distinguished Service Award; he was part of a team who recreated Cleopatra's ancient perfume, which was showcased in a National Geographic exhibit; he was involved in producing the digital edition of the Codex Sinaiticus, the oldest New Testament and Greek version of the Old Testament dating from the 4th century A.D.; and he co-published the illustrated children's history book, The Story of Ancient Timai.
Littman continues to direct the UH Tell Timai Project, the excavation of the ancient city of Thmouis in Timai El Amdid, Egypt in the Nile Delta that started in 2007. To date, more than 200 UH Mānoa students as well as students from other universities, have traveled to Egypt to participate in the excavation of Thmouis, a flourishing city from 500 B.C. to about 600 A.D. for the Egyptians followed by Greeks and then the Romans.
While on excavations students are exposed to ancient Egyptian culture, they learn about archaeological techniques, and they help with pottery washing on site.
"My first job was in a commercial kitchen washing dishes, and I guess I'm still doing it, only it's [ancient Egyptian] pottery, and I usually get the students to wash it now," Littman said.
--   Sent from my Linux system.