https://www.egyptindependent.com/luxor-inaugurates-treasures-of-minister-amenhotep-huy-exhibition/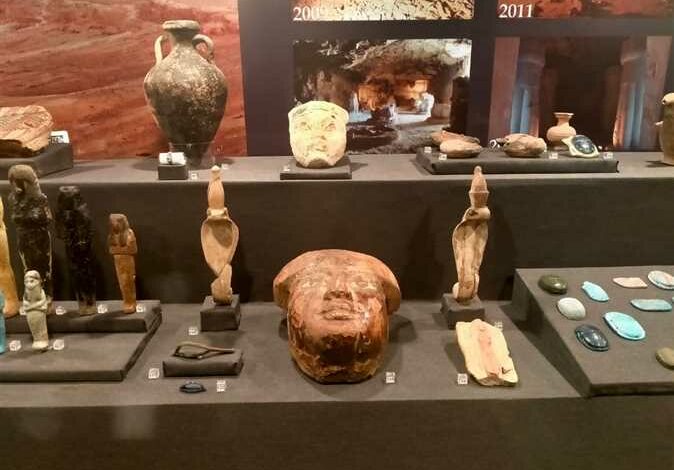 Luxor University President Mohamed Azzouz, accompanied by the Spanish ambassador in Cairo, inaugurated on Sunday evening the "Treasures of Minister Amenhotep Huy" temporary exhibition in cooperation with the Spanish mission.
The exhibit marks the 46th anniversary of the opening of the Luxor Museum of Ancient Egyptian Art.
The museum's director general, Alaa al-Menshawy, said that the exhibition includes 155 artifacts uncovered by the Spanish mission working in the tomb of Minister Amenhotep Huy from the Eighteenth Dynasty.
He added that one of the most important of these pieces is a limestone plaque decorated with the prayers of the god "Ra-Horakhty" and a limestone ostracon used in hand painting, showing a man carrying fruit-collecting tools – in addition to a group of scarabs, amulets, and ushabti statues.
The Luxor Museum of Ancient Egyptian Art is considered one of the most beautiful regional museums in Egypt. It is located on the eastern bank of the Nile and adorns the Nile Corniche in the center of Luxor Governorate.
The museum was established specifically to revive art in the ancient city of Thebes. It includes more than 3,000 artifacts on display, and more than 3,000 pieces are preserved within its museum stores. It consists of 5 exhibition halls; The First Hall, the Sobek Hall, The Cache Hall, the Upper Floor Hall, and the Hall of Thebes' Military and Technical Glory.
The museum was opened for visitation on December 12, 1975.
A new hall was added to it in 1984, and the Cache Hall was opened in 1991 and became one of the most important halls of the museum as it includes the most recent findings that were found in Luxor Temple in 1989.  The Glory of Thebes Hall then opened in 2004.
The museum's display scenarios shed light on ancient Egyptian art from Thebes (Luxor) through the ages, beginning with prehistoric times, the ancient state, the middle state, the modern state known as the "Golden Age", the Greek and Roman eras, Coptic art, and the Islamic era.
Among the most important pieces displayed in the museum are a green schist statue depicting King Thutmose III as a young man, a unique alabaster statue of King Amenhotep III with the god Sobek, a quartz stone statue of King Amenhotep III standing, and the mummy of King Ahmose I, founder of the Eighteenth Dynasty.
--   Sent from my Linux system.