https://egyptindependent.com/zahi-hawass-recommends-ancient-egyptian-hieroglyphs-be-taught-in-schools/
Zahi Hawass recommends Ancient Egyptian Hieroglyphs be taught in schools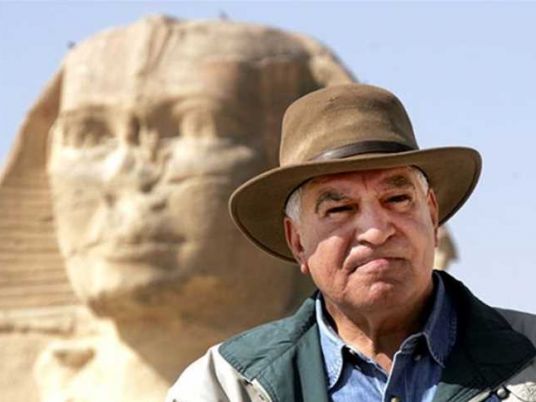 Prominent Egyptologist and former Minister of Antiquities Zahi Hawass implored Minister of Education Tarek Shawky assign schools to begin teaching ancient Egyptian hieroglyphs, during a television interview with the "Al-Hayah al-Yom" program on Tuesday.
Art teachers could instruct students on how to draw the 24 hieroglyphic letters, Hawass said adding that he has already forwarded the recommendation to the Education Minister and urged him to send the official order to schools across the country.
Hawass's hope is that this will raise awareness among Egypt's youth regarding their heritage. They could be educated even at a young age to begin writing names of their family members in ancient Egyptian hieroglyphics, he proclaimed.
The Egyptologist pointed to the 17 children's books he introduced on Ancient Egypt which he believes will help in learning the language – with Hawass stressing that this could become a source of pride for young students.
During the interview Hawass discussed the dramatic impact he believes the opening of the Grand Egyptian Museum's opening at the end of 2020 will have on tourism.
He also brought up the remarkable discoveries he was involved with in the Valley of Kings since 2017.
The famed Egyptologist previously told leading UK news site Express that he believes that Luxor's Valley of Kings holds the final resting place of the legendary ancient Queen Nefertiti. Hawass went on to claim he anticipates eventually uncovering every tomb of queens from the 18th Dynasty, alongside those belonging to the children of various kings.
He also alluded to the existence of an unidentified burial site for ancient royalty near the tomb of Amenhotep III.
Hawass was listed by National Geographic as an Explorer in Residence, and was also included among the world's Top 100 Most Influential People for the year 2005 by TIME Magazine.
In 2008, he was granted the position of Goodwill Ambassador to Japan by the Egyptian and Japanese Ministries of Foreign Affairs, according to his official website.
--   Sent from my Linux system.