https://www.egyptindependent.com/egypts-ministry-of-antiquities-finishes-1st-stage-of-sharm-el-sheikh-museum/
Egypt's Ministry of Antiquities finishes 1st stage of Sharm el-Sheikh Museum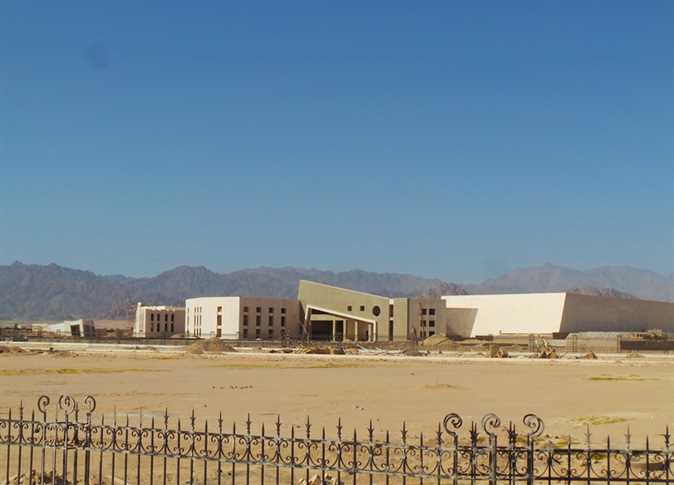 Egypt's Ministry of Antiquities has completed the first phase of construction on a new museum in Sharm el-Sheikh set to cost LE1.2 billion, according to Assistant Minister of Antiquities for Engineering Affairs Hesham Samir.
The project is being implemented in cooperation with Egypt's armed forces' National Service Products Organization, according to Samir, who clarified that the museum is set to receive a number of antiquities within the coming week.
The museum will be a tourist destination and an important cultural center documenting Egyptian civilization in Sharm el-Sheikh, Samir said, according to al-Borsa newspaper. 
Meanwhile, Minister of Antiquities Khaled Anany and Minister of Tourism Rania al-Mashat inspected construction work at the new museum ahead of its much-anticipated opening, which is set for the coming months.
The Ministry of Antiquities had previously resumed construction work on the museum in Sharm el-Sheikh in September 2018, following the project's suspension for eight years due to lack of funding, Samir said.
The Ministry has completed work on showrooms, cafeterias, 17 stores and 11 other shops related to archaeology and Egyptian heritage, he added.
Exhibition Adviser to the Ministry of Antiquities Mahmoud Mabrouk said that the new museum's exhibit is set to show aspects of everyday life in the modern era, as well as the everyday life of Egypt's pharaohs, highlighting ancient Egyptian's skills in manufacturing chairs, tables, and beds.
The museum will also feature an exhibit on wildlife and will highlight the ancient pharaohs' care for various animals, birds, reptiles and insects for the first time, Mabrouk added.
Sharm el-Sheikh Museum is expected to open early next year. The cost of the first phase of the project is LE600 million, 80 percent of which has been completed, with the second phase of the new museum expected to cost another LE600 million.
--   Sent from my Linux system.