https://www.egyptindependent.com/archaeologists-rule-out-murder-as-cause-of-king-tuts-death/
Archaeologists rule out murder as cause of King Tut's death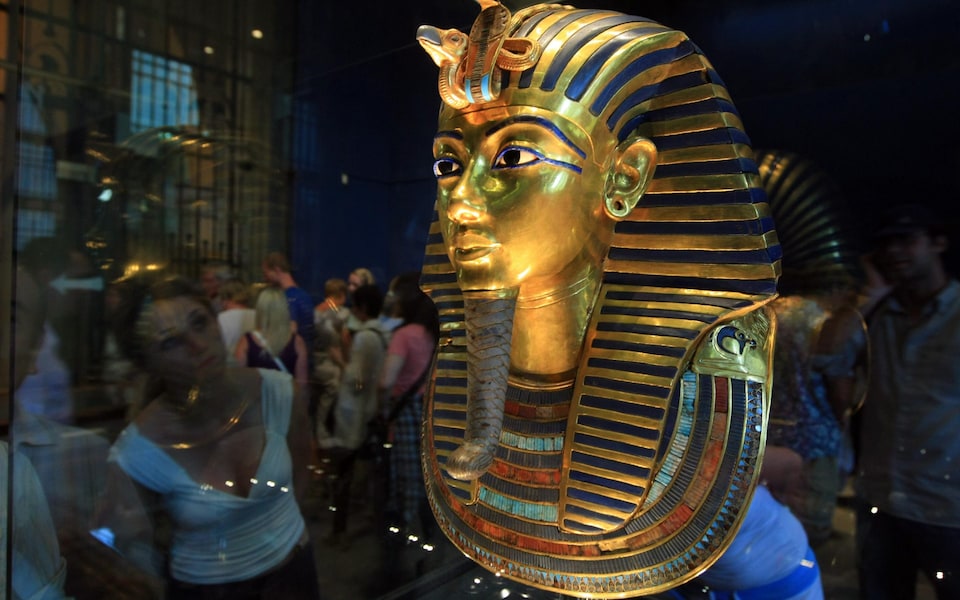 Scholars have concluded that King Tutankhamun was not murdered, after a lengthy investigation that seemed to refute popular theory.
The death of King Tut has been the subject of great debate and major studies among academia. The ancient Egyptian pharaoh took the throne when he was only eight or nine years old, and ruled Egypt for about a decade until his death in approximately 1324 BC. Although his rule was significant in reversing the many controversial reforms implemented by his father, Akhenaten, King Tut remained a minor figure in ancient Egyptian history only until recently.
British archaeologist Howard Carter discovered King Tut's tomb in 1922, when he dug through one of the doors and entered the tomb of the pharaoh, which has remained intact for about 3,200 years.
The tomb contained more than 5,000 artifacts, including a solid coffin, a gilded mask, and thrones.
It took Carter ten years to record all the items. But the only thing he couldn't find was any record of how Tutankhamun died as there were no surviving records of the circumstances of King Tut's death.
Murder was speculated as a possible cause after an X-ray in 1968 showed two bone fragments inside the skull.
Then there were theories that the young king was brutally murdered by political enemies, during a particularly turbulent period of Egyptian history.
As Carter and other archaeologists removed the body, it was damaged because King Tut was attached to his coffin with the resins used in the mummification process.
In the process of removing the body from the coffin, much of the mummy was dismembered – it was difficult to distinguish some of the damage from the embalming process and the damage from Tut's life.
However, further analysis of 1968 X-rays, as well as CT scans, put the murder theories to the fore.
The bone fragments in King Tut's cranial cavity perfectly match two pieces of bone missing from his first vertebra, located in the neck.
The fragments were loose and were not covered in embalming resin, which allowed scientists to conclude that it was the result of the modern unwrapping of the mummy.
Radiologist Ashraf Selim told National Geographic: "If these pieces of bone [were dislodged] before death, we would assume they would be stuck to the resin inside the skull, not just loose there."
Selin believed that they may have been removed during the first attempts to remove the now-iconic gold mask of King Tut, which had been tightly affixed to his body.
Addressing the murder theory, he said: "I think it is the end of the investigation… We can now close this file."
Selin's team shifted their focus to King Tut's left leg, suggesting that a femur fracture may have played an important role in his death.
A thin layer of embalming resin can be seen on the CT scan around the fracture area.
It has been speculated that a combination of King Tutankhamun's multiple weakness disorders, a broken leg, and a severe infection could have caused his death.
"The resin flowed through the wound and got into direct contact with the fracture and became solidified, something we didn't see in any other area.
"We could not find any signs of healing of the bone."
Since there have been no antibiotics for 3,000 years, it is very likely that severe infections were caused by the fracture.
"It's probably what killed him," Selin said.
Radiologist John Benson told National Geographic in 2006 that a broken leg was likely the cause of King Tut's death, but that there would be "always" speculation.
"There are a number of possible causes of death for which there would be no residual evidence.
"Tut could have had pneumonia, or he could have died from a communicable disease.
"Maybe his immune system was a little impaired because he was trying to heal the fracture, and he caught some kind of other disease that we wouldn't really be able to prove one way or the other," Benson said.
Meanwhile, a team of German archaeologists said the Golden King was killed by the inherited sickle cell disease.
Christian Timmann and Christian Meyer noted that sickle cell anemia is the most common cause of bone damage such as King Tut's.
People with sickle cell disease can still carry the malaria parasite in their blood, despite the increased immunity caused by the presence of the sickle cell gene.
They argued that this would explain why they detected the genes of the malaria parasite in King Tut.
Senior Egyptian archaeologist Zahi Hawass described their theory as "interesting and plausible", while archaeologists suggested that malaria was the fatal blow after weakness disorders and a broken leg.
--   Sent from my Linux system.