https://www.csmonitor.com/World/Middle-East/2023/0125/In-Valley-of-the-Kings-dig-an-all-Egyptian-team-makes-its-mark
Dignity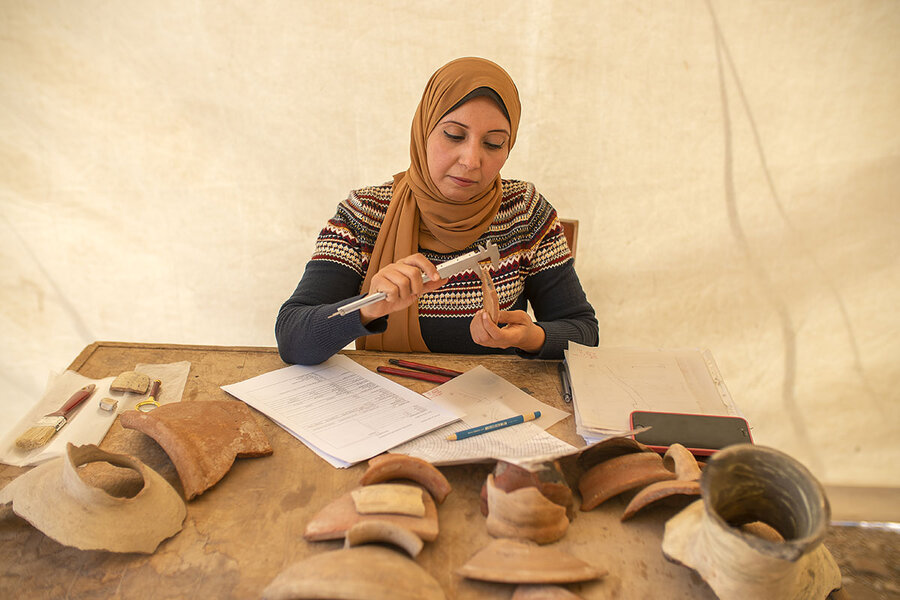 Dr. Asmaa Ebrahim measures a pottery shard at the archaeological excavation at Aten, a rediscovered city of ancient Thebes in Luxor, Egypt, Nov. 17, 2022
In Valley of the Kings dig, an all-Egyptian team makes its mark
| Luxor, Egypt
On a mild, late November morning, almost completely hidden behind the 5-foot-high walls of a sprawling, yellow-gray mud-brick city rising from the ground, a dozen members of an archaeological team survey and brush away soil.
In a nearby tent, carefully holding jagged pottery shards in one gloved hand under a lens, Asmaa Ebrahim painstakingly scribbles down notes on the 3,000th piece of pottery.
Traditionally, in this valley, rich with ancient Egyptian history and the iconic archaeological sites to match, the role of ceramicist was filled by a foreign archaeologist with credentials from Cambridge or Princeton, not a South Valley University graduate from upper Egypt.
For decades, as the world's leading archaeologists dug into the rich history buried in Egypt's Valley of the Kings, Egyptians were the laborers, never the discoverers. But not on this dig.
"For once, Egyptians are the leading Egyptologists," Dr. Ebrahim smiles.
As workers brush away dust and sand, a leather sandal pokes out from the ground, strap facing up, slightly sun-dried but looking as if it had fallen off the foot of its careless owner days – rather than 3,400 years – ago.
"This is one of several," remarks a worker.
Today, in Aten, the recently discovered city at the foot of the Valley of the Kings, a new generation of Egyptian archaeologists and specialists is uncovering new details of daily life in ancient Egypt and with them, newfound feelings of professional pride and overdue respect.
A rare window
Aten, the so-called Golden City, was the residential, administrative, and industrial center of ancient Thebes, dating back to the 18th dynasty and the reign of Pharaoh Amenhotep III – the golden age of ancient Egypt.
Discovered by chance while this rare all-Egyptian team was searching for the mortuary temple of the boy king Tutankhamen in 2021, it is now providing an ever-widening window into the daily life of ancient Egyptians.
Aten was abruptly abandoned by Amenhotep III's son Akhenaten, when he transformed ancient Egypt's religion and moved the capital 240 miles north of Thebes. That means much of the city was left intact as if life was suddenly frozen three millennia ago – Egypt's own Pompeii.

Bread remains in clay ovens, precious stones are scattered in the jewelry workshop, and sun-dried bricks are neatly stacked in a tiny pyramid waiting to be carted off to build a temple or a palace.
A wavy, zigzag serpentine wall that experts believed was designed to limit Nile floodwaters cuts through the north of the city; at its end in a tent, Dr. Ebrahim holds up a clay oven.
"We have bread in an oven; we have preserved meat, a sandal workshop. A complete residential life is depicted here in Aten," she gushes with enthusiasm, "and it is not so different from our daily life today."
"This is unique. You won't find it at any site currently in Egypt."
Already the team has uncovered seven districts containing homes, a bakery, kitchens, a tailor, a weaver's loom, a leather tannery, a metalsmith, a sandal cobbler, and a butchery complete with dried meats in jars inscribed with the butcher's name, "Luwy."
The team is also uncovering technical clues as to how ancient Egyptians built and furnished some of the wonders of the ancient world.
Its discoveries have included preserved amulet molds, a jewelry workshop, a brick factory, and granite, basalt, and pottery workshops, all of which it believes were used to build and decorate Luxor's lavish temples and palaces – and craft the ornate treasures that were buried in King Tut's tomb.
New generation
The discoveries are thanks to a new generation of Egyptian archaeologists trained and encouraged by Zahi Hawass, who is leading the dig at Aten. The colorful and bombastic former director of Egypt's department of antiquities used his public persona as "godfather" of Egyptian antiquities to help bring along 500 young specialists to staff all-Egyptian excavation teams.
Dr. Ebrahim is one of dozens who studied archaeology and Egyptology in Egypt and then, at Dr. Hawass' urging, went abroad in the 2010s to work and train to gain technical expertise that Egypt lacked – in restoration, conservation, pottery analysis, carbon dating, and surveying.
Now they are back leading digs like this at Aten, grabbing headlines and changing the way the world looks at ancient Egypt.
"Our role as Egyptians cannot only be serving foreigners and bringing them coffee and tea while they write books and make films and we do nothing," Dr. Hawass says as he walks along Aten's serpentine wall. "We needed to gain the technical expertise that we relied on foreigners for."
"As a young man entering a bookstore, I never found a single book on Egyptology written by an Egyptian. All our work depended on foreigners, and they took all the credit," he says. "But now we are a complete scientific team."
Although recent years have seen more joint international-Egyptian teams, this excavation is one where every role – from extracting and sorting soil to analysis to conservation – is done by an Egyptian, with eight experts overseeing two dozen workers.
One core team member is Siham El Bershawy, a Luxor native who grew up a few miles away from the Valley of the Kings and now preserves and restores everything from papyrus to mummies at Aten.
"That feeling when you take items out from the ground in your own site, in your own country, in your own community with your own two hands – you feel a sense of pride as an Egyptian," Ms. El Bershawy says as she adjusts the humidifier on a child mummy encased in glass in a tomb-turned-storeroom.
"It is your ability and skill that unearthed this item, and now you are the responsible one to protect it for future generations. It is an awesome feeling."
Earned respect
It is a recognition for Egyptian archaeologists that has been decades overdue.
Here in the Valley of the Kings, the names of foreign archaeologists still echo from history, such as Howard Carter, the Briton who excavated the tomb of Tutankhamen in 1922 and whose residence in Luxor is preserved as a top tourist destination.
In Aten, 2 miles west of the Carter House, this all-Egyptian team is expanding a discovery that many say rivals King Tut's tomb, earning accolades from academics and listed as one of the top 10 discoveries of 2021 by Archaeology Magazine.
"The real mark we made in this city is to show for the first time the role of the young Egyptians who are leading in archaeology and Egyptology," says Dr. Hawass.
Meanwhile Dr. Hawass' second Egyptian team, working in Saqqara, south of Cairo, last November discovered the funerary temple of Queen Nearit and 50 ornate wooden sarcophagi dating back 3,000 years to the New Kingdom – the earliest tombs ever discovered in that region.
"Two decades ago, we couldn't compete with international teams. But now foreigners look to us with respect. For the first time we are seen on the same level as Western archaeologists," Dr. Hawass says.
Among the most recent discoveries in Aten are five undisturbed tombs and five 4-foot-tall sealed jars at the edge of their excavations.
Dr. Hawass is planning to open one of the tombs this February and is continuing fundraising to extend excavations west of the city, of which so far an estimated one-third has been excavated.
Search for a queen
The team has also uncovered a clue he believes may lead it to the lost tomb of Queen Nefertiti – a name.
"Smenkhkare," the name of a mysterious pharaoh who ruled briefly between Aten and King Tut, was found on multiple inscriptions in Aten.
Egyptologists are divided on the figure; some believe Smenkhkare may have been a brother to Tutankhamen or a hitherto unknown co-regent with Akhenaten.
Dr. Hawass is of the camp that believes Smenkhare was a name assumed by Nefertiti after her husband Akhenaten's death as she ruled briefly as pharaoh.
While a separate British-Egyptian team is guiding a search for the lost queen's tomb farther west in the Valley of the Kings, Dr. Hawass' team believes that by following this clue, they may find it one day near Aten.
Even if future excavations do not lead to major breakthroughs, Aten has already made a major contribution to Egyptology – and for Egyptian archaeologists to be seen as peers.
"We are uncovering and preserving these items for the entire world, just like Western experts do," says Ms. El Bershawy, the conservationist. "This is more than a job. This is a calling. And we are answering this call and being recognized."