No, I haven't read it. This is NOT a recommendation, just a notice. Glenn
https://menafn.com/1098000425/Savant-Books-Announces-the-Release-of-Helen-R-Davis-New-Novel-Cleopatra-Victorious
Savant Books Announces the Release of Helen R. Davis' New Novel, Cleopatra Victorious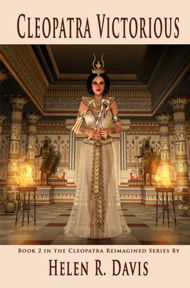 (MENAFN - PRLog) Savant Books and Publications LLC, Honolulu, Hawaii, USA, announces the release of the second in the Cleopatra Reimagined Series by Helen R. Davis, "Cleopatra Victorious" Cleopatra Victorious Spread the Word
Listed Under
Tag:
• Cleopatra Ancient Egypt
Industry:
• Books
Location:
• Honolulu - Hawaii - US
Subject:
• Products
HONOLULU - Jan. 20, 2019 - PRLog -- Cleopatra Victorious is the alternative history sequel to Helen R. Davis' award-winning novel, Cleopatra Unconquered (Savant 2015). Cleopatra VII, queen of Egypt, has triumphed at the Battle of Actium, which in the annals of history cost her and her lover, Mark Antony, their lives. She has won the battle, but will she be able to win the war and create a new place for her, her dynasty and Egypt in the annals of history?
The author of Cleopatra Unconquered - Book 1 in the Cleopatra Reimagined Series (Savant 2015) , recipient of Los Angeles, Pacific and London Book Festival Awards, multi-award-winning author, editor and poet Helen R. Davis has a long interest in history, religion, politics. She has studied the ancient world through the gift of books since a very young age with a passion and special interest in strong women who have governed nations.
"And so the saga continues," says Davis. "In this second in the Savant Cleopatra series, Cleopatra and Antony, instead of dying in the Battle of Actium, survive the machinations of Octavian. Having won the battle, new challenges appear including their plan for a joint empire. But how will they triumph over the increasingly jealous nations surrounding them including Herod of Judea and the daunting Parthians from the East?"
CLEOPATRA VICTORIOUS (Savant 2018)
by Helen R. Davis
360 pages - 6" x 9" Trade Book - Color Softcover
ISBN 9780999463338
Suggested retail price $16.95
This book is available directly from the publisher/printer at
https://mkt.com/savant-books-and-publications/item/cleopa
...
from Amazon.com at
https://www.amazon.com/dp/0999463330
and at Savant Bookstore Honolulu (
www.savantbookstorehonolulu.com
) and other online and "brick and mortar" bookstores throughout the world.
Distributed by Savant Distribution (
www.savantdistribution.com
), this work is also available from other major distribution outlets including Amazon Extended Distribution and Ingram Books.
Savant Books and Publications LLC is a publisher of enduring literature and media for the 21st Century. For more information visit
www.savantbooksandpublications.com
Contact
Michael Davis
Director of Publicity and Marketing
***@gmail.com
MENAFN2001201900703076ID1098000425
--   Sent from my Linux system.